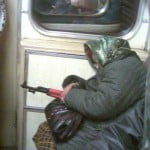 Happy mothers day, to all you mothers who read this site. In our hearts, you are all mothers.
People vary. You may still see your mothers, you may not see them any longer. You may have lost your mothers, or even blessedly found them again. We suspect many of you still live with your mothers. And many of you, certainly, still keep them up in the attic. And we understand why.
The Czar's own mother was 56 when he was born; even though he came out sideways, she never batted a furry eyelash: she pushed him out in one shot, without even stuttering as she banished five of her chambermaids to Siberia for thievishness. One of them pointed out to her that in fact she given birth to a boy with a full beard.
And if you are wondering where this is going, know only this: the Czar needs to add filler because the picture to the upper right would throw off the table that follows.
So the Czar wandered about the Castle yesterday and asked what each of us remembers best about our own mothers.
| | |
| --- | --- |
| | The Volgi: My mother was born originally in the village of Tseng, about which we know nothing. She doted on us heavily, and made sure we never left the house without an umlaut or, in bountiful summers, a circumflex or cedilla. She made a wicked Liao drug. |
| | Ghettoputer: 'Puter's mother knew how to beat the bejeezus out of us. 'Puter remembers one Christmas morning we woke up to hear someone quietly enter our home and creep about the tree. It was dad, and mom threw his drunk ass down the stairs. When he totally passed out, and the kids wanted to stick pins in him, she let us. That was a wonderful morning. |
| | GorTechie: My mother was a neurohybrid with pre-cortical acceleration, which I inherited in my ability to pre-process math equations. Beyond that, there was no real emotional attachment outside of the initial fusion displacement in the lab. I still call her every year on Mother's Day, which is easy because she is also a telephone. |
| | The Mandarin: My mother? You want to know about my mother? You can ask her yourself, if you ever make it to the Dimension of Blue Prime. She commands the Eighth Circle there, and holds dominion over the Invisible Gandaar Empire. For Mother's Day, I got her a hypercubic zirconium immulyzer. And a duck. Which she liked. She named him Edward. |
| | The Czar: Our mother is a great shot with a firearm. And, what is more, she taught us to throw an axe…even underhanded. She likes bonfires, frosty cold mornings, and vodka. Sometimes all at once. She knew the best swear words. |

Божію Поспѣшествующею Милостію Мы, Дима Грозный Императоръ и Самодержецъ Всероссiйскiй, цѣсарь Московскiй. The Czar was born in the steppes of Russia in 1267, and was cheated out of total control of all Russia upon the death of Boris Mikhailovich, who replaced Alexander Yaroslav Nevsky in 1263. However, in 1283, our Czar was passed over due to a clerical error and the rule of all Russia went to his second cousin Daniil (Даниил Александрович), whom Czar still resents. As a half-hearted apology, the Czar was awarded control over Muscovy, inconveniently located 5,000 miles away just outside Chicago. He now spends his time seething about this and writing about other stuff that bothers him.