Another Great Hockey Wager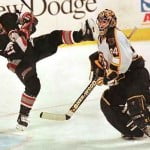 And now, the stage is set.
Dr. J, the Royal Surgeon of the Gormogons, has agreed to a typically friendly wager with the Czar over the outcome. The Czar wishes that all who fear and obey him know the terms are as follows:
In the event Dr. J's Flyers win, the Czar shall bequeath unto him a four-bedroom Inupiat igloo (with optional skylight, as pictured), Norwegian fjord horse, and this pole vaulter, just in case our royal surgeon needs some vaulting done around the house while Mrs. Dr. J is busy with the kids.
And in the event the Hawks defeat the Flyers, the good doctor shall offer up a Vesuvius victim made of Spam, a singing piranha, and a winter-length badger hat.
Let the games begin.

Божію Поспѣшествующею Милостію Мы, Дима Грозный Императоръ и Самодержецъ Всероссiйскiй, цѣсарь Московскiй. The Czar was born in the steppes of Russia in 1267, and was cheated out of total control of all Russia upon the death of Boris Mikhailovich, who replaced Alexander Yaroslav Nevsky in 1263. However, in 1283, our Czar was passed over due to a clerical error and the rule of all Russia went to his second cousin Daniil (Даниил Александрович), whom Czar still resents. As a half-hearted apology, the Czar was awarded control over Muscovy, inconveniently located 5,000 miles away just outside Chicago. He now spends his time seething about this and writing about other stuff that bothers him.