Another Compare and Contrast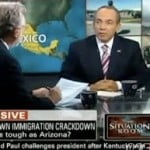 What 'Puter failed to mention was that the Volgi doled out compare and contrast assignments* today so here's mine. I'm sure he'll give me a B+ because I don't include enough foreign languages.
Event one: Mexican President Felipe Calderón was invited by the President to speak to a joint session of Congress. In this speech, the Mexican president berated the Arizona immigration law for encouraging, if not requiring, law enforcement officials to racially profile in order to enforce the law. Consider that this is a foreign head of state standing in our own legislative house by invitation of our own President, decrying legally passed legislation. What was the reaction? The democrats gave him a standing ovation and the White House did nothing to downplay his potential interference into our policies and governance. Can anyone reading this consider for a moment what would happen if President Bush went to Mexico and stood in front of their governing body and blasted them for having strict laws (which they do) on illegal immigration? For the purposes of comparing and contrasting, let's consider the crux of the Arizona law's language:
For any lawful contact made by a law enforcement official or a law enforcement agency…where reasonable suspicion exists that the person is an alien who is unlawfully present in the United States, a reasonable attempt shall be made, when practicable, to determine the immigration status of the person…
Event two: Mexican President Felipe Calderón follows up the speech with a visit with CNN's Wolf Blitzer. Amazing and to his credit, Blitzer presses Mr. Calderón on the Mexican immigration laws. Here is the exchange:
BLITZER: So if…
CALDERON: — (INAUDIBLE).
BLITZER: So if people want to come from Guatemala or Honduras or El Salvador or Nicaragua, they want to just come into Mexico, they can just walk in?
CALDERON: No. They need to fulfill a form. They need to establish their right name. We analyze if they have not a criminal precedent. And they coming into Mexico. Actually…

BLITZER: Do Mexican police go around asking for papers of people they suspect are illegal immigrants?
CALDERON: Of course. Of course, in the border, we are asking the people, who are you?
And if they explain…

BLITZER: At the border, I understand, when they come in.
CALDERON: Yes.
BLITZER: But once they're in…
CALDERON: But not — but not in — if — once they are inside the — inside the country, what the Mexican police do is, of course, enforce the law. But by any means, immigration is a crime anymore in Mexico.
BLITZER: Immigration is not a crime, you're saying?
CALDERON: It's not a crime.
BLITZER: So in other words, if somebody sneaks in from Nicaragua or some other country in Central America, through the southern border of Mexico, they wind up in Mexico, they can go get a job…
CALDERON: No, no.
BLITZER: They can work.
CALDERON: If — if somebody do that without permission, we send back — we send back them.

BLITZER: You find them and you send them back?
CALDERON: Yes.
Re-read the above emphasized portions and contrast that with his admonishment of the Arizona laws. Maybe the Mexican president is like our Attorney General Holder and he hasn't read the Arizona law. Here's a new thought for the current administration: let's adopt the Mexican immigration laws and ENFORCE them.
* Note that I think the Czar beat it to the Leaping Peacock and the Mandarin is locked away in his lab (I see sparks coming from under the door at least) so I doubt they'll get their assignments in on time.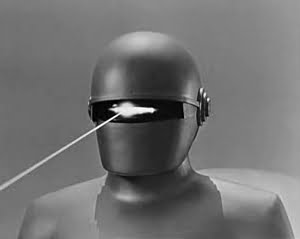 GorT is an eight-foot-tall robot from the 51ˢᵗ Century who routinely time-travels to steal expensive technology from the future and return it to the past for retroinvention. The profits from this pay all the Gormogons' bills, including subsidizing this website. Some of the products he has introduced from the future include oven mitts, the Guinness widget, Oxy-Clean, and Dr. Pepper. Due to his immense cybernetic brain, GorT is able to produce a post in 0.023 seconds and research it in even less time. Only 'Puter spends less time on research. GorT speaks entirely in zeros and ones, but occasionally throws in a ڭ to annoy the Volgi. He is a massive proponent of science, technology, and energy development, and enjoys nothing more than taking the Czar's more interesting scientific theories, going into the past, publishing them as his own, and then returning to take credit for them. He is the only Gormogon who is capable of doing math. Possessed of incredible strength, he understands the awesome responsibility that follows and only uses it to hurt people.