The Amateur Hour That Never Ends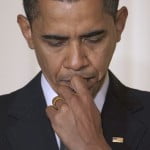 Well, Peggy Noonan pretty much nails it on the head when she says no matter what happened with the oil spill, the President was going to screw it up:
When your most creative thoughts in the middle of a disaster revolve around protecting your position, you are summoning trouble. When you try to dodge ownership of a problem, when you try to hide from responsibility, life will give you ownership and responsibility the hard way.
So what was the President to do? Dive in there and cap it himself? No, but when his Road Show and Manic Jamboree showed up with the lights and sound speakers, he elected to announce himself in charge…but then proceeded to duck each question, vanish from the scene, send a bunch of functionaries to delay response, had Janet Napolitano show up to make speeches (obviously Tim Geithner was busy), and take a vacation.
Each day, fewer people are falling for this routine. You cannot hide amateurism for long. And each time, it gets more obvious. Mr. President, this job is never going to get easier.
You claim to know this. You said yourself the other day that no President has had a harder 18 months since the 1930s. Except, looking at the last seventy years, you have had the easiest presidency. It's just you that's made a consistent mess of it. Well, not just you: your minions are helping you every inch of the way.
Anyway, Ms. Noonan makes a very convincing argument (if you read the whole link) that even the Democrats are now starting to realize the sad truth: this guy is another one-term disappointment.

Божію Поспѣшествующею Милостію Мы, Дима Грозный Императоръ и Самодержецъ Всероссiйскiй, цѣсарь Московскiй. The Czar was born in the steppes of Russia in 1267, and was cheated out of total control of all Russia upon the death of Boris Mikhailovich, who replaced Alexander Yaroslav Nevsky in 1263. However, in 1283, our Czar was passed over due to a clerical error and the rule of all Russia went to his second cousin Daniil (Даниил Александрович), whom Czar still resents. As a half-hearted apology, the Czar was awarded control over Muscovy, inconveniently located 5,000 miles away just outside Chicago. He now spends his time seething about this and writing about other stuff that bothers him.