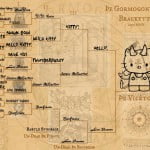 Well, the Gormogons' March Madness is over, and while it wasn't the extravaganza of last years (you do the math, smart guys), we are proud to declare the winner is Hello Kitty, whose insanity-inducing blank stare drove Jenny McCarthy into pseudoautistic catatonia, in the first semi-final before meeting and incinerating Zombie Luc Besson who came back from the dead to defeat Nosferatu—Luc's French, even dead he reeks of garlic—and put up a game fight by trying to distract the Kitty with Milla Jovovich in a white-leather-strap outfit. It didn't work on HK, but sent the Gormogons to the Media Hall for a repeat screening of Le Quinzième Élément (which you can buy at our store over there in the left margin. Incidentally, we're just dumping stuff in there for fun, not commerce. As a globe-spanning conspiracy we can just about cover the bandwidth fees).
Congratulations, and ALL HAIL KITTY.

Don't ask impertinent questions like that jackass Adept Lu.