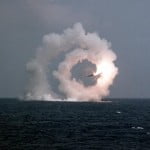 Your Mandarin saw the headline, "Iranian Missile May Be Able To Hit U.S. by 2015" for this article from Reuters today and my first thought was wow, that has to be the slowest missile ever developed. I mean really what speed is that thing traveling at, five miles a day?
Upon reading further, it turns out that in fact no extremely slow missile has been launched by the Iranians. In reality the article discusses the possibility that with foreign assistance – which your Mandarin assumes would be from Russia or China – the Iranian government could build an ICBM capable of landing on the U.S. by the year 2015. Glad to see our "friends" are looking out for us.
Oh well, I guess I can leave the castle bomb shelter for now. Although I don't remember where the door is.

The Mandarin, whose real name is 吏恆, joined the order in 1309, and introduced the Gormogons into England during the 18th Century.
The Mandarin enjoys spending time with his pet manticore, Βάρἰκος, or Barry (who can be found in the Bestiary). When not in the Castle…well, frankly, nobody is quite sure where he goes.
The Mandarin popularized the fine art of "gut booting," by which he delivers a powerful kick to the stomach of anyone that annoys him. Although nearly universal today, the act of gut booting or threatening someone or something with a gut boot is solely due to him.