That Girl Will Rock Your World…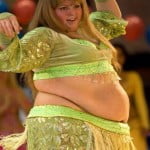 According to this article from Foxnews.com women who wear revealing clothing and behave promiscuously are to blame for earthquakes, or at least that is what senior Iranian cleric Hojatoleslam Kazem Sedighi believes.
First off you goofy throw-back to the 7th century, it is not scantily clad women shaking their money makers that cause the earth to tremble, but rather the awesome powers of the Gormogons! If in doubt let me reference you to the Eyjafjallajökull eruption. And secondly, you might have a slight earthquake problem based on the fact that Tehran sits on numerous fault lines.
But rest assured that this enlightened cleric has some sound disaster preparedness plans as evidenced in this quote:
"What can we do to avoid being buried under the rubble? There is no other solution but to take refuge in religion and to adapt our lives to Islam's moral codes."
Ok buddy, good luck with that. Your Mandarin would suggest that you might want to move the capitol to a less seismically tenuous region, update your building standards, or maybe sacrifice a virgin or two to the volcano gods.

The Mandarin, whose real name is 吏恆, joined the order in 1309, and introduced the Gormogons into England during the 18th Century.
The Mandarin enjoys spending time with his pet manticore, Βάρἰκος, or Barry (who can be found in the Bestiary). When not in the Castle…well, frankly, nobody is quite sure where he goes.
The Mandarin popularized the fine art of "gut booting," by which he delivers a powerful kick to the stomach of anyone that annoys him. Although nearly universal today, the act of gut booting or threatening someone or something with a gut boot is solely due to him.