Oh For Crist Sake, Drop Out Of The Race Already…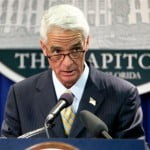 Fox News is reporting that Republican Governor Charlie Crist of Florida will now run as an independent for the Florida U.S. Senate seat.
Why the sudden urge to run as an independent? The answer to that question would be Marco Rubio. After entering the race a few months ago Rubio has been able to not only close a 30-point gap in the polls, but to extend his lead over Crist by 30-points. That's a 60-point swing!
But why such a drastic change of fortune for Governor Crist? Maybe it was his support of Barak Obama and government bailouts, or maybe it's because his running mate is a true conservative. It could also be that many see the Governor's run for the U.S. Senate as a way for him to avoid having to deal with Florida's $3 billion budget deficit and have an "un-tarnished" record if he chooses to run for President.
Governor Crist is quoted as saying, "Republicans in Washington want him to stay in the Republican party but voters in Florida have told him they want him to run as an independent." Well that is a very interesting spin on the fact that the voters in your party have basically told you to go pound sand in favor of a candidate that reflects their conservative beliefs.
Governor Crist is also quoted as saying, "Under no circumstance will I drop out of the race, I will do what is best for the voters of Florida." Best for the voters Governor, or best for you? At this point your Mandarin thinks that you are showing your true colors, and like most politicians are only looking out for yourself. And that is the best case scenario. The worst case scenario is that you are now staying in the race to split the vote and hand the election to the Democratic candidate. Governor Crist, this is not a game of basketball where if you don't get picked for the team you take the ball and go home so no one can play. Grow up and get out of the way of the candidate that the people have selected.

The Mandarin, whose real name is 吏恆, joined the order in 1309, and introduced the Gormogons into England during the 18th Century.
The Mandarin enjoys spending time with his pet manticore, Βάρἰκος, or Barry (who can be found in the Bestiary). When not in the Castle…well, frankly, nobody is quite sure where he goes.
The Mandarin popularized the fine art of "gut booting," by which he delivers a powerful kick to the stomach of anyone that annoys him. Although nearly universal today, the act of gut booting or threatening someone or something with a gut boot is solely due to him.