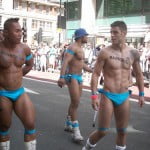 Wait, no, that's not right. That's the sort of thing Czar blows his entire disability check on every month down at the Manhole. 'Puter's always wondered what goes on in there, as the windows are all blacked out. Czar refuses to tell, citing his personal "don't ask, don't tell" policy.
Actually, 'Puter's intro is a bit too flippant for the serious topic Gormogon Operative JAB raises in response to 'Puter's post on MoDo, The NYT's Po Mo Ho's cultural Catholicism. JAB writes:
I am a mere Protestant, and a low-church Protestant at that (meaning, no priests of any sort, no incense, no Christ crucified on the Cross but rather a plain Cross in the church, and in the rural South, often no choirs or instrumental music). However, I was struck dumb by the quote you posted from Maureen Dowd that the priest "…turn[s] the Host into the body of Christ…." and the water into wine. I've attended many Catholic services with friends, but that doesn't make me an expert. However, I had been under the impression that the Catholic position was that the priest was a mere intermediary for the power of God, NOT that he was capable of transforming anything at all on his own. If you would, please correct/elaborate/expound.
Proving once again that many Protestants understand the Roman Catholic faith better than some self-proclaimed Roman Catholics, JAB hits the nail on the head. In the Roman Catholic faith, the Eucharist is the literal body and blood of Christ, and it is God who transforms it during the offering of the Mass, not His intermediary, the priest. In the Catechism, Roman Catholics affirm belief in the following (footnotes omitted (check the link your own danged self)):
1374 The mode of Christ's presence under the Eucharistic species is unique. It raises the Eucharist above all the sacraments as "the perfection of the spiritual life and the end to which all the sacraments tend." In the most blessed sacrament of the Eucharist "the body and blood, together with the soul and divinity, of our Lord Jesus Christ and, therefore, the whole Christ is truly, really, and substantially contained." "This presence is called 'real' – by which is not intended to exclude the other types of presence as if they could not be 'real' too, but because it is presence in the fullest sense: that is to say, it is a substantial presence by which Christ, God and man, makes himself wholly and entirely present."

1375 It is by the conversion of the bread and wine into Christ's body and blood that Christ becomes present in this sacrament. The Church Fathers strongly affirmed the faith of the Church in the efficacy of the Word of Christ and of the action of the Holy Spirit to bring about this conversion. Thus St. John Chrysostom declares:

It is not man that causes the things offered to become the Body and Blood of Christ, but he who was crucified for us, Christ himself. The priest, in the role of Christ, pronounces these words, but their power and grace are God's. This is my body, he says. This word transforms the things offered.
And St. Ambrose says about this conversion:

Be convinced that this is not what nature has formed, but what the blessing has consecrated. The power of the blessing prevails over that of nature, because by the blessing nature itself is changed. . . . Could not Christ's word, which can make from nothing what did not exist, change existing things into what they were not before? It is no less a feat to give things their original nature than to change their nature.
There's more than you probably ever wanted to know about the Roman Catholic Church and the Eucharist at the above link. Again, as JAB notes, and St. John Chrysostom affirms, Roman Catholics believe it is God's power (not the priest's, as Ms. Dowd erroneously believes) that transforms the bread and wine into the actual body and blood of Jesus Christ.
JAB closes the communication with the following observation:
If you want to eat pork, don't be a Muslim or a Jew. If you want to drink bourbon, you best to [not? – 'Puter] be a Baptist or a Muslim. If the Eucharist is a symbol of Christ, my guess is that you'd be better off as an Episcopalian than a Catholic. We all make choices, don't we?
As JAB notes, Ms. Dowd has made her choice, like many other elite Democrats, to continue to call herself a Roman Catholic despite overwhelming evidence to the contrary. Ironically, Ms. Dowd herself, and not her critics, offers the strongest proof of her non-Roman Catholic status. Ms. Dowd hangs herself with her own words.
'Puter's asked several of his friends who state their "Catholic" faith in terms similar to Ms. Dowd why they even bother pretending to be Roman Catholic anymore, as their belief system is incompatible with that of the Church. Usually 'Puter is met with a shrill "it's my Church, too, and who are you to tell me what to do!!1!one!!" response, which is sad. 'Puter truly believes they'd be happier elsewhere, but cannot bring themselves to recognize the break with Church they have already made.
We certainly do make choices each day that directly impact the outcome of our lives, for good and for bad. 'Puter feels fortunate for having made the good choice, along with his fellow Gormogons, of starting this blog to discuss issues of the day. We Gormogons are fortunate to have a following of smart, savvy readers willing to debate us in good faith, and to call us out when we are wrong. 'Puter is constantly amazed at the knowledge and humor of his correspondents, such as JAB. Your feedback keeps us on our toes.
So, to all our readers, thanks. And to Ms. Dowd, 'Puter bets there's an Episcopalian church in yor neighborhood that would be happy to talk to you about joining up.

Always right, unless he isn't, the infallible Ghettoputer F. X. Gormogons claims to be an in-law of the Volgi, although no one really believes this.
'Puter carefully follows economic and financial trends, legal affairs, and serves as the Gormogons' financial and legal advisor. He successfully defended us against a lawsuit from a liquor distributor worth hundreds of thousands of dollars in unpaid deliveries of bootleg shandies.
The Geep has an IQ so high it is untestable and attempts to measure it have resulted in dangerously unstable results as well as injuries to researchers. Coincidentally, he publishes intelligence tests as a side gig.
His sarcasm is so highly developed it borders on the psychic, and he is often able to insult a person even before meeting them. 'Puter enjoys hunting small game with 000 slugs and punt guns, correcting homilies in real time at Mass, and undermining unions. 'Puter likes to wear a hockey mask and carry an axe into public campgrounds, where he bursts into people's tents and screams. As you might expect, he has been shot several times but remains completely undeterred.
He assures us that his obsessive fawning over news stories involving women teachers sleeping with young students is not Freudian in any way, although he admits something similar once happened to him. Uniquely, 'Puter is unable to speak, read, or write Russian, but he is able to sing it fluently.
Geep joined the order in the mid-1980s. He arrived at the Castle door with dozens of steamer trunks and an inarticulate hissing creature of astonishingly low intelligence he calls "Sleestak." Ghettoputer appears to make his wishes known to Sleestak, although no one is sure whether this is the result of complex sign language, expert body posture reading, or simply beating Sleestak with a rubber mallet.
'Puter suggests the Czar suck it.