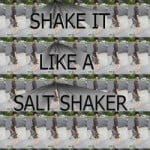 We are all children now!
Your benevolent governmental paternal unit has determined that Americans are too stupid to determine what they can shove in their pie holes, so they've made our food choices easier by eliminating all the "bad" or "wrong" options.
That's right, boys and girls. The government's on a crusade to eliminate salt from the American diet through governmental regulation.
Jeebus H. Tapdancing Christ on a bicycle! 'Puter hasn't been this mad since Czar switched out 'Puter's Everclear with turpentine, and he didn't notice the difference.
'Puter doesn't ask for much from his government. Decent roads, some national defense, minimally corrupt government, etc. All 'Puter asks in return from his government is to leave him the heck alone.
It's not like 'Puter's asking the government to provide him food or shelter, in which case the government is well within its rights to limit choice. Beggars can't be choosers. If you're on food stamps, the government can tell you to eat saltless canned spinach and dried chickpeas. You're on the dole; you don't get a say.
But leave 'Puter and his crappy, fatty, salt-laden, alcohol-fueled diet the heck alone, as he's a quasi-self-supporting adult. It's an American right to shove whatever noxious crap one wants down one's food hole. 'Puter's willing to abide the consequences of his poor decisions. And, last 'Puter checked, salt is necessary for the human body to function properly.
More annoyingly, this affects what goes on inside 'Puter's castle. Apparently, for liberals, any room in the house, except for the bedroom, is free range for government regulators. Low flow toilets, energy star appliances, smart meters, the intrusions just keep coming. You want to get it on with three midgets and a throng of macaques? Go for it! Heck, you can get NEA funding for your performance art. So long as it's for the children, or for the environment, or for your own good, that's all the justification the government needs to intrude into your most personal decisions.
'Puter'll be goll-darned if he's going to put up with these mule muffins. Czar and 'Puter are going out tonight for Maalox Margarita night at the Leaping Peacock, with extra salty rims!

Always right, unless he isn't, the infallible Ghettoputer F. X. Gormogons claims to be an in-law of the Volgi, although no one really believes this.
'Puter carefully follows economic and financial trends, legal affairs, and serves as the Gormogons' financial and legal advisor. He successfully defended us against a lawsuit from a liquor distributor worth hundreds of thousands of dollars in unpaid deliveries of bootleg shandies.
The Geep has an IQ so high it is untestable and attempts to measure it have resulted in dangerously unstable results as well as injuries to researchers. Coincidentally, he publishes intelligence tests as a side gig.
His sarcasm is so highly developed it borders on the psychic, and he is often able to insult a person even before meeting them. 'Puter enjoys hunting small game with 000 slugs and punt guns, correcting homilies in real time at Mass, and undermining unions. 'Puter likes to wear a hockey mask and carry an axe into public campgrounds, where he bursts into people's tents and screams. As you might expect, he has been shot several times but remains completely undeterred.
He assures us that his obsessive fawning over news stories involving women teachers sleeping with young students is not Freudian in any way, although he admits something similar once happened to him. Uniquely, 'Puter is unable to speak, read, or write Russian, but he is able to sing it fluently.
Geep joined the order in the mid-1980s. He arrived at the Castle door with dozens of steamer trunks and an inarticulate hissing creature of astonishingly low intelligence he calls "Sleestak." Ghettoputer appears to make his wishes known to Sleestak, although no one is sure whether this is the result of complex sign language, expert body posture reading, or simply beating Sleestak with a rubber mallet.
'Puter suggests the Czar suck it.