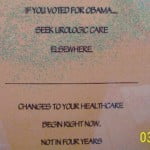 A urologist in Florida has placed a sign on his office door advising Obama supporters to seek treatment elsewhere.
That's pretty dumb. Obviously, a doctor cannot necessarily refuse medical treatment to anyone, but he can refuse to see non-emergency patients on whatever grounds he wishes.
That is not nearly as dumb as ABC's gullible spin on the event. The real story here? Tea Party folks are racist bastards.
Follow their logic. A congressman says that a lot of people in the community are black, and blacks largely voted for Obama; therefore, in a conclusion that should not fool a fourth grader, directing Obama supporters to other doctors is refusing to treat African Americans because they are black. Where, oh where is the social justice? ABC News does not pause to ask the congressman how he makes that connection: they simply report it.
The doctor is quoted as saying he, naturally, is not about to refuse treatment to anyone who needs it from him.
ABC News then incredibly quotes a grandmother, who is outraged that the doctor would deny her or her daughter (who evidently took the photograph you see here) treatment. ABC News does not pause to ask the grandmother or her daughter how often either them visits a urologist: they simply report it.
This is a dumb move being spun even more stupidly into another mainstream media "Tea partiers are all racists!" rant. ABC News does not pause to ask the doctor if he supports the tea party. They simply assume it.

Божію Поспѣшествующею Милостію Мы, Дима Грозный Императоръ и Самодержецъ Всероссiйскiй, цѣсарь Московскiй. The Czar was born in the steppes of Russia in 1267, and was cheated out of total control of all Russia upon the death of Boris Mikhailovich, who replaced Alexander Yaroslav Nevsky in 1263. However, in 1283, our Czar was passed over due to a clerical error and the rule of all Russia went to his second cousin Daniil (Даниил Александрович), whom Czar still resents. As a half-hearted apology, the Czar was awarded control over Muscovy, inconveniently located 5,000 miles away just outside Chicago. He now spends his time seething about this and writing about other stuff that bothers him.