Bernard DeVoto, I like the cut of your jib, sir.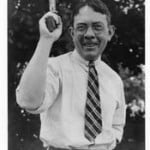 In 1928, D.H. Lawrence wrote a poem entitled "How Beastly the Bourgeois Is" in which he compared the middle class to a "fungus, living on the remains of a bygone life/sucking his life out of the dead leaves of greater life than his own." Lawrence's contempt for the bourgeoisie was part of an intellectual tradition dating back to the 19th century, when English aesthetes such as John Ruskin and Oscar Wilde, German sociologists such as Ferdinand Tonnies and Georg Simmel, and French litterateurs such as Charles Baudelaire and Gustave Flaubert made careers out of flaying the middle class. They defined it as comprising, in the words of the great French historian Francois Furet, "petty, ugly, miserly, laborious, stick-in-the-muds, while artists were great, beautiful, brilliant and bohemian." Flaubert, for one, argued against democracy on the grounds that "the whole dream of democracy is to raise the proletarian to the level of stupidity attained by the bourgeois."

It was only in the 1920s, the same decade in which Lawrence wrote his poem, that such contempt for the bourgeoisie—and with it a deep hostility toward the United States's position as the quintessentially middle-class, democratic, and capitalist nation—found a wide audience in this country through a new generation of writers such as Sinclair Lewis and H.L. Mencken. Weaned on the work of H.G. Wells and George Bernard Shaw and their loathing for conventional mores, Lewis and his confreres became the dominant force in American letters, and their views went largely unchallenged in the literary world. It was left to a critic named Bernard DeVoto to issue the first serious and meaningful challenge to their worldview—the opening salvo in a brave and lonely battle that still resonates, even though DeVoto and the book in which he took up arms for the United States against its own intellectuals are both forgotten.
Read the whole thing. It'll well repay your time, or your money back.
We tossed some DeVoto books into the shop at left.

Don't ask impertinent questions like that jackass Adept Lu.