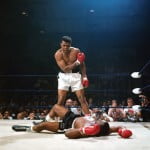 So, you're going to be infiltrated by agents provocateurs of the Left. Let me suggest one strategy that might be effective. If anyone starts up with some sort of bigoted crap, kick his ass.
You can't be too careful.
(Or has Confucius been hanging out with the Czar & Mandarin too long?)
N.B. The Gormogons are not soliciting or encouraging acts of violence, however justifiable. But we wouldn't cry at seeing some racist or pseudo-racist with a bloody nose. No sirree.

Don't ask impertinent questions like that jackass Adept Lu.