Pop Quiz: Are You Conservative or Liberal?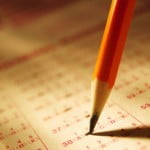 You may be more liberal, or more conservative, than you think. Here is an easy quiz. Conservatives will likely have more (a) answers, and liberals more (b) answers.
The unemployment rate is…
a) Too damn high. Everyone is hurting.
b) A necessary course of action because it does not affect me personally.
What is a basic right of all people?
a) Handguns.
b) Healthcare, housing, college education, groceries, cars, postage, wax paper, corsets, bike chain, space travel, yo-yo string, aglets, dielectric foam insulation, teeth whiteners….
Americans overwhelmingly reject Healthcare reform because…
a) It has little to do with healthcare or reform, and was jammed through with no regard for the average American, and is intended to be an extraordinarily expensive entitlement to secure votes for future Democrats from the chronically underemployed.
b) They are all racists.
Defense spending is…
a) Tight enough already.
b) Bush lied about WMD!
What is social justice?
a) I don't really know; the definition seems to change every time someone gets on television.
b) The belief that people who work hard, scrimp and save, and spend money wisely should hand that money over to people who do very little to deserve it. The opposite of actual justice. And I would like that money.
Why is Afghanistan important to foreign affairs?
a) Because a stable, democratic government will stabilize Iraq and Pakistan and encourage true reform in Iran.
b) Al Gore should have been president in 2000.
Deficit spending is dangerous economically because…
a) It encourages runaway inflation, ruins our ability to secure credit through direct loans or indirectly through balanced trade, and crushes the ability of retired Americans or people on fixed incomes to survive.
b) Everyone but me is a racist.
Should the rich be taxed more than other people?
a) Not necessarily; the rich already pay for more than 90% of America's taxes, and reducing their tax rate has consistently shown to be the fastest way to increase the value of the dollar, reduce unemployment, and raise per capita incomes.
b) Yes, because I am not rich, and I don't know anyone who is, so therefore the rich are an invisible, evil people who make an infinite amount of money and can easily pay for anything we want indefinitely. Plus, George Bush is a racist.
Was the stimulus successful?
a) No. Nearly all the money remains unaccounted for, and despite some quick fix solutions, it wound up damaging cash flows for other projects in 2010, which will likely hold unemployment where it's at. Further, very little of the money went to the people who needed it most.
b) Racist, racist, racist. And George Bush.
Has the Hadley CRU incident changed your mind about Global Warming?
a) Certainly. A lot of people who assumed temperatures were increasing are now on the fence about it. And the people who were on the fence now think the whole thing is made up. Although it does not eliminate the concern of temperature deltas completely, it gave the argument a serious black eye, and attempts to explain it away make the argument look even more suspicious.
b) And Dick Cheney. Racist, racist, racist. Tea baggers. Heh. That's so naughty, it even sounds racist. When do I get my money?

Божію Поспѣшествующею Милостію Мы, Дима Грозный Императоръ и Самодержецъ Всероссiйскiй, цѣсарь Московскiй. The Czar was born in the steppes of Russia in 1267, and was cheated out of total control of all Russia upon the death of Boris Mikhailovich, who replaced Alexander Yaroslav Nevsky in 1263. However, in 1283, our Czar was passed over due to a clerical error and the rule of all Russia went to his second cousin Daniil (Даниил Александрович), whom Czar still resents. As a half-hearted apology, the Czar was awarded control over Muscovy, inconveniently located 5,000 miles away just outside Chicago. He now spends his time seething about this and writing about other stuff that bothers him.