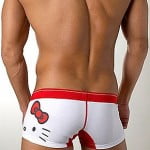 Operative TB writes in with the following question (oddly drafted in motor oil on eelskin) concerning 'Puter's post yesterday:
Hey wait one minute! Last time I looked Kitty was up against Putin. Hagar isn't even in the brackytte. Where did he come from and why does Kitty look so…so…ambivalent?
Look, I hang out at the castle because I thought I could trust you dogs. If you're going to start revising history, well I could go read Sully for that – and without having to put up with Barry Man-a-glow singing Mandy over the castle intercom all day. Explain yourself!
'Puter will answer TB's query, after a fashion.
First, 'Puter enjoyed the juxtaposition of noted gay, Palin's womb-obsessed, "I'm still conservative, dammit," Andrew Sullivan with Vegas female impersonator Barry Manilow. What? Manilow's actually a male? Nevermind.
Second, the Kitty/Hagar magnum opus was posted not as commentary on the ongoing Gormogon tournament, but rather as a preview of 'Puter's new manly back tattoo. See, 'Puter wanted a manly Hello Kitty tattoo to match the barcode GorT put on him while 'Puter was passed out. It will also go nicely with the "This End Up" tattoo Czar and Mandy carved into 'Puter's butt with a soldering iron last Spring Break at Havasu. Fear not, TB, the Tournament proceeds apace, and remains shenanigan free (as far as you know).
Third, no operative should ever reveal intimate details of life in Castle Gormogon. Sure, it seems a trifle that people now know about the Castle's speaker system, or about Czar's unholy fascination with all things Manilow, but it's not. These facts could be used against your Gormogons in unseen ways. We're always being watched. It usually just turns out to be Sleestak or Dat Ho watching us shower, but you get the drift.
So, TB, there's your answer in partes tres. Thanks for writing in.
PS. GorT did not like the demanding tone of your query, TB. You shall have been audited for the 1997 tax year as punishment therefor.
PPS. Hello Kitty is not ambivalent. That is merely the look she gives prior to opening a can of whoop ass on a foe, headless or not.

Always right, unless he isn't, the infallible Ghettoputer F. X. Gormogons claims to be an in-law of the Volgi, although no one really believes this.
'Puter carefully follows economic and financial trends, legal affairs, and serves as the Gormogons' financial and legal advisor. He successfully defended us against a lawsuit from a liquor distributor worth hundreds of thousands of dollars in unpaid deliveries of bootleg shandies.
The Geep has an IQ so high it is untestable and attempts to measure it have resulted in dangerously unstable results as well as injuries to researchers. Coincidentally, he publishes intelligence tests as a side gig.
His sarcasm is so highly developed it borders on the psychic, and he is often able to insult a person even before meeting them. 'Puter enjoys hunting small game with 000 slugs and punt guns, correcting homilies in real time at Mass, and undermining unions. 'Puter likes to wear a hockey mask and carry an axe into public campgrounds, where he bursts into people's tents and screams. As you might expect, he has been shot several times but remains completely undeterred.
He assures us that his obsessive fawning over news stories involving women teachers sleeping with young students is not Freudian in any way, although he admits something similar once happened to him. Uniquely, 'Puter is unable to speak, read, or write Russian, but he is able to sing it fluently.
Geep joined the order in the mid-1980s. He arrived at the Castle door with dozens of steamer trunks and an inarticulate hissing creature of astonishingly low intelligence he calls "Sleestak." Ghettoputer appears to make his wishes known to Sleestak, although no one is sure whether this is the result of complex sign language, expert body posture reading, or simply beating Sleestak with a rubber mallet.
'Puter suggests the Czar suck it.