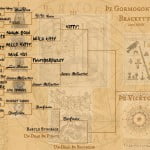 Well, we're almost down to our Final Four. Thanks to everyone who voted in the last poll. The runaway winner, with 45% of the vote was Bart Stupak, who was duly fed to Nosferatu and had both his faces and his forked tongue chewed off en route to a hideous vivisection. We appreciate your vote—or at least Nosferatu did. Other winners include Jenny McCarthy, who took out Cheetara in what only horrible sexists would call a cat fight. And, in what was the most highly anticipated match of the week, Hello Kitty obliterated Vladimir Putin and half the Moscow oblast with some sort of Tunguska event. Jenny McCarthy is advised to keep watching the skies…
So, here's where we stand:
Who comes back to battle Nosferatu this week? Go ahead and e-mail me, as the survey widget doesn't seem to be working.

Don't ask impertinent questions like that jackass Adept Lu.