Well, the 'Puter ain't right here. There are staunch supports of either side of this argument. While the officers and my fellow Gormogon offer some compelling arguments for legalizing it, I think the downsides outweigh the positives. Updating the public intoxication and DUI laws are easier said than done (the law generally trails problems). Sure we could lock step it in with the legalization, but I doubt we'll get the laws right on the first try. Second, there's the matter of enforcement – drugs are a tantalizing beast and do we really have the free time with our current police forces to add this to their plate? And what degree of "stoned" is allowed in public and how would an officer measure or enforce that?
Maybe more importantly, this opens Pandora's box. Legalizing marijuana beckons the legalization of cocaine, heroin, PCP, etc. Are we ready to accept having the additional fatal accident to the abusers and innocents because it's nice that we'll have these updated laws and better enforcement (I assume) but will they catch the guy who gets high one night and decides to go for a joy ride? It's no different than getting drunk and doing the same, so now we're just allowing for more sources of that abuse – does that make sense? I'd say not. The same goes for the argument that the harder drugs should be under a "use on premise" law. How would one enforce that – maybe they have to hire a local official to oversee them while they get high? Doubtful.
I suspect that 'Puter would argue that as part of the legalization process that there would be a minimum age for possession and consumption. How bad is alcohol abused by minors now? Are we going to make drugs that much more available that minors are now more tempted by the "tempting fate" challenge of scoring some weed (or worse) instead of a six-pack? I'm not naive enough to believe that teens aren't already abusing drugs, but my point is that the legalization of drugs could make them that much more available than from dealers that have to worry about being busted.
A few things to consider:
After marijuana became legal in the Netherlands at smoke shops, usage tripled.
A marijuana cigarette deposits 3-5 times the amount of tar into ones lungs – the current laws are banning second-hand smoke in many places, so would this apply to marijuana as well?
Marijuana users have 55% more industrial accidents per year and a 78% increase in absenteeism.
The liberal Canadian policies are likely the reason that Canadian youths lead the world in frequent usage of marijuana.
While I don't want the government making personal health choices for me, I'll cede this one – recreational drugs just aren't a good thing.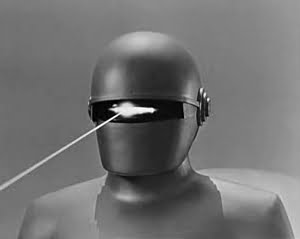 GorT is an eight-foot-tall robot from the 51ˢᵗ Century who routinely time-travels to steal expensive technology from the future and return it to the past for retroinvention. The profits from this pay all the Gormogons' bills, including subsidizing this website. Some of the products he has introduced from the future include oven mitts, the Guinness widget, Oxy-Clean, and Dr. Pepper. Due to his immense cybernetic brain, GorT is able to produce a post in 0.023 seconds and research it in even less time. Only 'Puter spends less time on research. GorT speaks entirely in zeros and ones, but occasionally throws in a ڭ to annoy the Volgi. He is a massive proponent of science, technology, and energy development, and enjoys nothing more than taking the Czar's more interesting scientific theories, going into the past, publishing them as his own, and then returning to take credit for them. He is the only Gormogon who is capable of doing math. Possessed of incredible strength, he understands the awesome responsibility that follows and only uses it to hurt people.