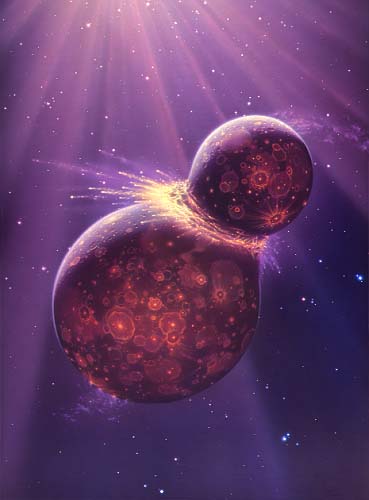 Just remember that FoxNews is always your voice of doom.
As you may have heard, something pretty big slammed into Jupiter last week. We don't know what it was, because it hit on the far side. And nobody likes the far side of Jupiter. You think Detroit is awful? Try the far side of Jupiter.
Anyway, that proved to be of great interest to people. A cool photo, taken by an amateur no less, sealed the deal. So FoxNews is capitalizing on this interest by scaring the crap out of folks, asking in a gravel-like voice, Is Earth Next?
Probably not, but check out the quote:
Billions of years ago, impacts were far more common. Our moon retains a record of the pummeling it and Earth took; the moon's craters remain, while on Earth, most scars of ancient impacts have been folded back into the planet or weathered away.
This is true, of course, but misses the big one. The moon itself is the biggest record of an impact on the earth!
About 4.527 ± 0.010 billion years ago (which was a Monday), the Earth was slightly smaller than it is today. A planet the size of Mars, named Theia, was trying to establish its own orbit around the Sun and got a bit too close to Earth. Eventually, Theia slammed into the Earth, blowing a massive amount of rocks and debris into orbit. This stuff eventually condensed into the moon, while Theia itself fused into the Earth and brought it up to its present size or so.
So when you look at the moon itself, realize that a little comet or whatever popping into Jupiter, while pretty bad if it happened here, is nothing compared to what made the moon in the first place!

Божію Поспѣшествующею Милостію Мы, Дима Грозный Императоръ и Самодержецъ Всероссiйскiй, цѣсарь Московскiй. The Czar was born in the steppes of Russia in 1267, and was cheated out of total control of all Russia upon the death of Boris Mikhailovich, who replaced Alexander Yaroslav Nevsky in 1263. However, in 1283, our Czar was passed over due to a clerical error and the rule of all Russia went to his second cousin Daniil (Даниил Александрович), whom Czar still resents. As a half-hearted apology, the Czar was awarded control over Muscovy, inconveniently located 5,000 miles away just outside Chicago. He now spends his time seething about this and writing about other stuff that bothers him.