The Czar Takes On Feathers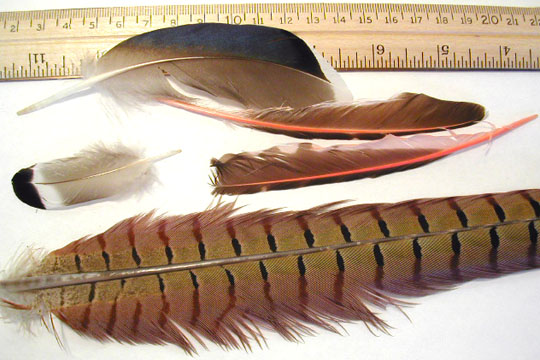 So to speak.
Last evening, the Czar and family attended a private function at a nearby wildlife rehabilitation preserve. At this location, they take in injured or ill wild animals and treat them for either release into the wild, or a lifetime of assisted living care (the latter is quite rare; they have only a handful of animals who permanently live there, ranging from a three-legged red fox to a blind owl to a turkey vulture with a badly crippled wing, and so on).
The Czar's family has been a financial supporter of this facility for years, because we love nothing more than seeing a frightened, wounded animal with no chance of survival be treated at no cost to taxpayers, rehabbed, and returned completely healthy back into the wild so Ghettoputer can shoot it with a high powered rifle.
Just kidding! 'Puter uses shotguns. Anyway, the private function was for those who have donated over the years, so this afforded us the ability to (a) take a private tour of the entire facility as well as (b) brag about it openly on the Big G.
During a tour of the extensive surgical areas, the Czar spotted some large envelopes attached to the wall, each stuffed with bird feathers. On the face of the envelope was written the type of bird from which the feathers came. Assuming it would be cost ineffective to mail something that was weighed down by feathers, the Czar stopped a passing staff member who trembled and blanched before the Czar's frightening visage. She also asked what we wanted to know.
"There has to be a reason for these," the Czar raged in terrible fury.
Then, with a voice so frightened it failed even to quiver, she explained that they are required by law to track and maintain every feather they find on the entire property.
"." we replied.
She then explained, to our total astonishment, that it is a violation of federal law to own, possess, or obtain the feather of any protected bird native to the United States or any of her possessions. Migratory birds are protected by one set of laws, non-game birds by another. She added that even picking up the feather of a blue jay, which trickles and spins its way down out of a tree, is against the law. Yep: picking up even one feather you find on the ground is a no-no.
European sparrow feathers? No problem: non-native, as are pigeons and doves. Robins? Okay, as they are not protected. Turkeys? Have fun—all game birds are okay. Chickens? No problem: they are domestic, as are the ducks who make duck feather pillows. But hawks, eagles, jays, cardinals, geese, wild ducks, swallows, swans…pretty much every bird that is cool…is forbidden. No feathers. No touchy.
Ironically, the Czar found a red tail hawk feather that morning, picked it up, and gave it to someone.
So that explains why they collect all the feathers…but what happens to them? The Czar raised his axe over her head, demanding an explanation. Fearing for her life, she pointed to the envelopes and casually explained.
They are sent to a government agency in Colorado who identifies the species, approximate age, etc., for statistical purposes. Eagle feathers and many hawk feathers are sent to Indian nations for private, ceremonial use. Although it is legal for Native Americans to possess feathers, the feathers must be registered so that no illegally collected feathers make it into the nations. They keep robin and sparrow feathers there, too, simply because volunteers do not necessarily know the difference between a peregrine tail feather and a sparrow wing feather. Best to be safe and collect them all, especially if feathers get mixed together.
Wow, the Czar reeled, sparing her helpful life. The Czar just researched all this, and discovered that these laws do exist, and although they are confusing and often interpreted quite variously, state laws tend to head off the exceptions and counter-arguments.
So, lesson learned. See a feather on the ground? Leave it be.
Incidentally, interested in learning more about the facility we support? Click on the raccoons. Yes, these two goofballs actually live here, and you can visit them for free. You may now also visit a recently obtained (via car accident and now on exhibit) bobcat. The bobcat is a serious mo-fo of an animal, and the staff are quite frightened of him and will no longer enter his den. They have to feed him by pushing food in through a hatch very quickly, and clean his area with a high pressure hose from the outside when he is up sleeping in his tree. When you make eye contact with this guy, as the Czar did for the first time last evening, you see why he commands such respect. Damn, but that is the biggest bobcat we have ever seen.

Божію Поспѣшествующею Милостію Мы, Дима Грозный Императоръ и Самодержецъ Всероссiйскiй, цѣсарь Московскiй. The Czar was born in the steppes of Russia in 1267, and was cheated out of total control of all Russia upon the death of Boris Mikhailovich, who replaced Alexander Yaroslav Nevsky in 1263. However, in 1283, our Czar was passed over due to a clerical error and the rule of all Russia went to his second cousin Daniil (Даниил Александрович), whom Czar still resents. As a half-hearted apology, the Czar was awarded control over Muscovy, inconveniently located 5,000 miles away just outside Chicago. He now spends his time seething about this and writing about other stuff that bothers him.