On this day of remembrance, I'd like to post some excerpts from a member of the 506 Paratroopers, 101st Airborne, Fox Company that I think are telling of the spirit, sacrifice and dedication that these brave men and women had:
Enclosed is a snapshot of Staff Sgt. "Black Jack" Borden, who conducted himself in exemplary fashion throughout the various engagements. He once held a town with only seven men for better than a score of hours.

…
First, two mud caked 'troopers that, somehow, look trim. Their equipment stashed neatly about their person. Four grenades hanging ready, from their shoulder webbing. Helmets garnished with sprigs of the surrounding foliage. And the cleanest thing they have, that M-1 — rides at high port. The whole scene is alive with the light of their darting eyes. "Scouts, one and two — leading out."
If you asked me a month ago I would have told you to expect me for Christmas — but now I'll push that up just twelve months and then cross my fingers. I'm not complaining. This is one job we just can't "ram" our way through. If a cup of coffee isn't sweet enough with three lumps of sugar, it isn't a smart idea to throw it away or even to drink as it is — not when it would take only one more lump. I'll be glad when we get to Germany, if we do. Give me total war and let's finish the job. You can't play football in a drawing [room] and have any respect for the furniture.  By the same token war must completely absorb "the all" of its battlefields.
…
It is with the feeling of privilege that I serve with these fine troops. Contrary to popular opinion — the war will be carried to Germany and on by willing and enthused soldiers of the American armies. With the troops at the front, international disputes and differences minimize considerably & units of British and American components operate in keeping with the highest standards of military service. Mutual respect of the combat soldier — individual for individual will cement our relationship if not undermined by these half-thinking hair brains in the capitals. Distrust is developed in conference rooms not behind machine guns…. 
Not so long ago I lost a good friend — I wish, Mom, that you would write to his Mom. In short this is what happened: Early one morning Lt. Hall's plt. was taken under a very heavy mortar and artillery preparation, followed closely by an SS armored assault. He withdrew his unit to a more favorable position & from this new point of vantage rallied his people for the counter thrust. This was done under the most fierce enemy fire of almost every description and was in the best tradition of the parachute service. It was in so exposing himself, with utter disregard for his own safety & with only his troops in mind — that Hall gave his life for his comrades, his unit, and his country; a deed lauded by God as well as man. Hall was extremely well liked by the men and offices of this organization and equally respected for his military dexterity. I'm sure that he is remembered fondly in each soldier's prayers as he is in mine and as he is in the conversations of all ranks. I've written to his girl (a WAC S/Sgt.) but I have so many of these things to do I'd like to make the one to his "Mom" a little different. I think it would do a lot of good.
The Gormogons thoughts and prayers and thanks go out to these fallen soldiers, their families and those who came before and after them.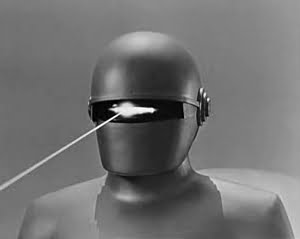 GorT is an eight-foot-tall robot from the 51ˢᵗ Century who routinely time-travels to steal expensive technology from the future and return it to the past for retroinvention. The profits from this pay all the Gormogons' bills, including subsidizing this website. Some of the products he has introduced from the future include oven mitts, the Guinness widget, Oxy-Clean, and Dr. Pepper. Due to his immense cybernetic brain, GorT is able to produce a post in 0.023 seconds and research it in even less time. Only 'Puter spends less time on research. GorT speaks entirely in zeros and ones, but occasionally throws in a ڭ to annoy the Volgi. He is a massive proponent of science, technology, and energy development, and enjoys nothing more than taking the Czar's more interesting scientific theories, going into the past, publishing them as his own, and then returning to take credit for them. He is the only Gormogon who is capable of doing math. Possessed of incredible strength, he understands the awesome responsibility that follows and only uses it to hurt people.