GorT's Workplace Tips #451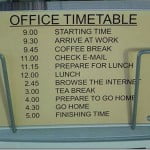 GorT has shared a number of tips before…no they weren't titled as such, but the lessons are in the posts, you just have to do the reading.
Tip #451: Your best opportunity for happiness (and therefore success, in my opinion) is to do something you enjoy.
While this may strike many as common sense or not that, there are nuances here to understand.  This came up as GorT had a co-worker announce today that they will be leaving the company.  The root cause, from their perspective, is due to dissatisfaction with our health care insurance provider.  Now, this employee is a self-described "serious liberal".  They've had issues, as others have including GorT, with the provider as far as in versus out of network payments and coverage.  After repeated discussions, I believe that this employee has a fundamental misunderstanding of how health insurance works and a pie-in-the-sky belief of what it should do and cover.  They have limited work experience (about 5 years) and the previous employer (large headcount) had a cadillac level plan.
We're a small company, under 50 employees, and therefore the plans are limited.  And, as an aside, the costs are rising for us as well – largely due to ACA requirements and impacts.  In addition, the company foots the bill (for now) for employees' premiums.  There is some saying about a gift horse's mouth.
My point is that health care insurance is always a mess.  There are always some sort of drawback to your plan: painful forms and processing, high deductibles, small network of providers, etc.  Is this really the reason you want to switch jobs if you really enjoy everything else about your job?
I wish the co-worked all the best.  It'll be sad to see them leave and we'll have to work hard to ramp someone else to that position.