Battle of the Five Characters We Lost Interest In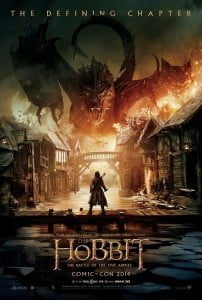 GorT and family trekked out this past weekend to see "The Hobbit: Battle of the Five Armies".  To set the stage, GorT has always been a bigger fan of the novel, The Hobbit, than the trilogy of the Lord of the Rings series by J.R.R. Tolkien.  Two-thirds of The Two Towers reads like a Hemingway novel where it drones on for pages…we're climbing the mountain…and climbing….and climbing.  And given that, GorT believes that Peter Jackson did a great job with the Lord of the Rings movies.  However, I had my doubts when it came to transforming the (roughly) 300-page novel into a trilogy, even with the 125 pages of the "Appendecies".
Fair warning: I'll avoid spoilers in this post – particularly of the third movie since it just came out – but some general talk of the first two movies in the series will be required.
The first movie stayed truest to the novel.  While not a requirement, I think it made for the best movie in the series.  Martin Freeman's Bilbo Baggins developed in front of the audience and you were drawn into the lives of band of dwarves.  They had depth to their characters that appealed to the audience.  Admittedly, the second movie strayed quite a bit from the source material and introduced characters not in the original novels.  Case in point: Tauriel, a she-elf concocted to provide a love interest aspect to the story.  The second movie, in my opinion, is a fun movie with the river escape scene, Bilbo and Smaug, and other scenes providing action without being too heavy.  But the third movie falls down.  It is generally depressing featuring long stretches or recurring scenes that beat dead horse story arcs.  The battle scenes are well done, but it becomes easy to lose any connection to Thorin, Tauriel, and others.  Bilbo loses some of the focus of the story…and it is "The Hobbit" after all.
So while a fan of the Tolkien universe will appreciate it, do not see it expecting a fun, uplifting Christmas movie.  The story gets wrapped up but with some predictable scenes and outcomes.  And that's not including the story arc that we know from reading the books.