Olympics – GorT Update #1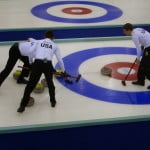 Dr. J is not the only Olympics aficionado in the Castle. GorT loves him some Olympics…especially the Winter Olympics. The Summer is cool – you get some of GorT's favorites like soccer, archery, shooting (the last two getting hardly any coverage on NBC network stations – an area where Dr. J and GorT clearly agree). But curling and people flying 80+ mph (that's 128+ kph for you metric folk) and hockey – that's some good TV. Maybe they need some more shooting events besides the biathlon. As GorT started writing this, he's watching the USA v. Norway (and their crazy pants) in curling on his side monitor and already caught the end of the USA v. Switzerland which started around 5am eastern time.
Dat Ho came walking by the entertainment center last night and dropped the following, "Puter, I was going to do a 5-0 grind with an airdog last night but after my backside rodeo I had to bail as the airdog tried pulling a beef wellington 720 fakie but ended up laid out finishing in an asspass. I almost blasted a dookie watching it." 'Puter stood up, punched Dat Ho, mumbled, "bizatch" and we returned to watching the coverage.*
GorT remains baffled why NBC continues to get the Olympics coverage. NBC has a contract through the 2020 Summer games. Sigh. 1960 marked the first year that the Olympics were broadcast in the United States.
Olympics
Coverage
Olympics
Coverage
1960 Winter Games
CBS
1960 Summer Games
CBS
1964 Winter Games
ABC
1964 Summer Games
NBC
1968 Winter Games
ABC
1968 Summer Games
ABC
1972 Winter Games
NBC
1972 Summer Games
ABC
1976 Winter Games
ABC
1976 Summer Games
ABC
1980 Winter Games
NBC
1980 Summer Games
NBC
1984 Winter Games
ABC
1984 Summer Games
ABC
1988 Winter Games
ABC
1988 Summer Games
NBC
1992 Winter Games
CBS
1992 Summer Games
NBC
1994 Winter Games
CBS
1996 Summer Games
NBC
1998 Winter Games
CBS
2000 Summer Games
NBC
2002 Winter Games
NBC
2004 Summer Games
NBC
2006 Winter Games
NBC
2008 Summer Games
NBC
2010 Winter Games
NBC
2012 Summer Games
NBC
2014 Winter Games
NBC
So while I am not a fan of NBC's coverage, I wonder if there was a time when people disliked ABC's coverage (not quite the same run…but…)
The one thing I hope people in this country take away from the coverage: it's perfectly fine to be the crazy Americans that cheer "USA! USA!" – plenty of other countries do the same. It's called national pride – let's have some.
* all of these terms (and more) can be found here. If you don't catch the thread, just know, 'Puter is all about ass things.