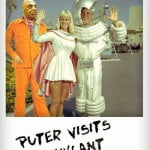 You might remember a few days ago that our beloved Castle archivist Marie found a whole box of old photos, and the Czar elected to scan a few of them and put them out here for you. As you know, we have been around a long time and each of us has done all sorts of nutty, fun things and interacted with famous people.
Here is one that Ghettoputer had placed in the box. There is no date on it—although there are other things on the back of it we should not mention—but 'Puter guesses this was around 1963 or so. Evidently at some point he went to Disneyland in California.
Enjoy. We will try to scan some more as time permits.