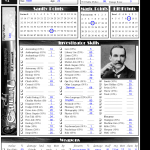 There's an App for that?!?
Still not as creative as some
of 'Puter's characters.
Well, 'Puter is a character.
We've been lax in recognizing a few recent, notable anniversaries. The first is yesterday was Dungeons & Dragons' 40th anniversary. Sort of. It marks the 40th anniversary of the first time Gary Gygax had folks over to game after Dungeons & Dragons became commercially available. While I'm sure there was some play-testing involved, this was likely the first game after it hit the shelves.
I (and likely a few other Gormogons) played the 1st edition D&D as kids in the late 1970s and early 1980s. There were a number of favorite adventures and reams of graph paper for mapping out the locations stuffed into a soft-sided briefcases I had.
I stumbled across an interview with David "Zeb" Cook who GorT used to work with in the mid-90s. Zeb was the third full-time game designer hired by TSR and later became Senior Designer at TSR. GorT has also played his Top Secret TS005: Orient Express module.
The Volgi used to run Cthulhu campaigns that GorT and 'Puter participated in frequently and actually the Morrow Project (which GorT really thought was cool, even though a bit complicated rule-wise). GorT ran a few other role playing games (RPGs) such as TORG, Paranoia, and Top Secret.