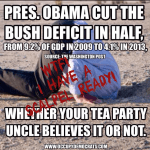 Note: Dr. J likes "tagging" with blood…
Continuing my thoughts from yesterday, GorT presents the second part of the dodging post.
Dr. J nailed the poster as seen here on GorT's door. I'll start by saying that numbers like this are easy to pump out. There's another poster like this that the College Democrats are pumping out that claim Obama grew the economy by leaps and bounds listing 5 or 6 stats. The first question to ask on any of these is, "What exactly did President Obama do to advance the economy?" Then follow it up with, "The economic growth has been largely in the last few years, when Congress (you know, the branch that controls the purse-strings of the country) was split and the House was controlled by Republicans, can't the same claims be attributed to them as well?"
Rather than fully dispute the numbers, let me put forward a few details that the infographic leaves off:
Obama pledged to cut the deficit in half in four years, stating that he inherited a deficit of $1.3T. It was actually more like $1.4T.
Obama and Democrats assign the 2009 budget and deficit with George W. Bush. President Bush didn't sign that budget and the Democrats controlled Congress. It was a Democrat-led Congressional budget signed by President Obama. It shouldn't be attributed to President Bush and it shouldn't be assigned to President Obama (other than the fact that he was a sitting Senator until late 2008).
Four fiscal years later, FY2012, the deficit was $1.09T – maybe a third of the original mark.
Remarkably, the infographic authors picked the deficit as a percentage of the GDP. This is a more accepted analysis.
And analysis in the Washington Post (same source as the infographic numbers) states:

What's behind it?

Most of all, there was more revenue. Government receipts totaled $2.774 trillion, up $325 billion from 2012, and rising to 16.7 percent of GDP from 15.2 percent. That reflects in part a stronger economy that increased income and payroll taxes…There was less spending, amid the drawdown of U.S. involvement in Afghanistan, lower unemployment insurance benefits due to an improving economy, and the enactment government enacted budget cuts called for in the 2011 debt ceiling deal, including the sequestration automatic spending cuts that began in March.

Do you see the underlying reason? It's not Obama. It was increased jobs which created additional revenue and budget cuts which the GOP pushed to pass.
You'll see plenty more of these as democrats try to defend the legacy that Obama will leave behind, prepare for the 2014 interim elections and rally the troops for the 2016 Presidential election. Take a minute and really dig behind the numbers. Or else, pop over to The Gormogons to get the latest scoop.