Zombie Apocalypse Survival Gear, Gormogons Style*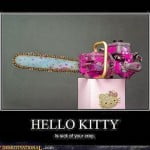 Nothing strikes fear into the undead heart of a zombie like the sound of chainsaw revving up. Nothing, that is, except a chainsaw revving up prominently displaying the visage of She Who Has No Mouth, Yet She Must Scream.**
If you'd like a Hello Kitty chainsaw for yourself, just swing by Mandarin's laboratory and ask him to whip you up one. He'll usually do it for just a lobe or two of your liver or lung. Your choice.
*Special thanks to Borepatch for sharing this with 'Puter.
**Your Volgi reminds 'Puter that if you translate "She Who Has No Mouth, Yet She Must Scream" into, sequentially, Sanskrit, Swahili, Medieval Ottoman, Farsi, Polish, Korean, Russian, back into Medieval Ottoman and finally into Aramaic, take the first letter of each word, then rearrange them, you get "HELLO KITTY." Eerie, huh? If you don't believe 'Puter, try it for yourself.