On ObamaCare: 'Puter's Thoughtful Response To WaPo's Eugene Robinson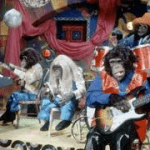 If anyone's got a herpetic monkey wang, it's the
drummer for Lancelot Link and the Evolution
Revolution. Good luck with getting your "little
problem" treated under ObamaCare, Mr. Drummer!
Eugene Robinson, an ever-reliable Obama sycophant, parrots the White House's ObamaCare talking points in today's Washington Post. Mr. Robinson's opinion piece is headlined "Obamacare's real danger for the GOP is that it will succeed."
Mr. Robinson states his central premise thus:
Republicans are afraid that ObamaCare will not prove to be a bureaucratic nightmare — that Americans, in fact, will find they actually like it.
An interesting premise you have, Mr. Robinson. Let's take a quick look at it, but not from your conjecture as a liberal inside the Beltway columnist as to what that strange breed of subhumans known as Flyover Country Conservatives might think. Rather, let's ask an actual conservative and registered Republican voter what he fears most about ObamaCare. Let's ask 'Puter.
'Puter's happy to lend 'Puter a hand, especially since 'Puter's never low on opinions, baseless or otherwise.
'Puter thinks ObamaCare's a no good, very bad, horrible law on about eleventy gajillion levels. But nowhere to be found of 'Puter's list of "Why ObamaCare Sucks Herpetic Monkey Wang" is "Americans will like it."
Of course a large chunk of Americans will like ObamaCare. That large chunk of Americans are the selfsame no talent ass-clowns who pay no taxes and enjoy getting "free" crap from the government. See, e.g., ObamaPhones. If a bleeding heart liberal wanted to pay 'Puter's upkeep out of his own pocket, of course 'Puter'd be thrilled. When someone else is paying, you'll take all that person will give. Too bad for 'Puter and his fellow taxpayers, his fellow Americans on the receiving end of the government's "free" crap get to vote, which led directly to Obama's election and reelection.
Unfortunately for 'Puter, he's in the other large chunk of Americans. The Americans who pay for the other chunk's free crap. And frankly, 'Puter's getting sick and damned tired of being told he has to shell out more and more for other people's "free" crap the government showers down like NFL players tossing Benjamins at hookers exotic dancers at a strip bar gentlemen's club.
Hell, Obama's motto might as well be, "I'm making it rain, bitches!" American taxpayers of course would be Obama's bitches whose wealth he's foolishly spreading around.
But enough about Mr. Obama, the spineless Senate Republicans brilliantly choreographed by Ferris Bueller's economics teacher, the malevolent Senate Democrats led by Ebenezer Scrooge, House Republicans cowering behind their leader George Hamilton and not to be forgotten, the House Democrats led by Ilsa, She Wolf of the SS (Mrs. Pelosi is actually more of a Crusades rather than WWII vintage, but work with 'Puter here). Great googly-moogly, 'Puter's got enough raw animosity built up against our effete, emasculated and ineffective ruling class to go on a whole other rant, but as Gold Five sagely reminds us, "Stay on target!"
Mr. Robinson reverts to the liberals' age-old trope: conservatives don't want anyone to be happy. Horseshit. Conservatives are hunky-dory with people being happy, and with children having food, and with old people having adequate retirement funds. What conservatives viscerally loathe is liberals' insistence that the happiness of others be purchased with never ending and ever increasing amounts of their money.
If you want health care, or retirement income, or food for your kids, pay for it own damned self. If you can't pay for it for whatever reason, and without moral judgment as to why, you're getting charity (private provider) or welfare (government provider).
And guess what, White middle class America? You're welfare recipients just as surely as the poorest Black person living in Chicago's horrible housing projects, whether you admit it or not. Medicare is nothing more than welfare for old White folks. It's Medicaid, but without the stigma.
Further, if you've been on Social Security for more than five or ten years or so, you've already taken out far more than you ever put in during your working life, even accounting for compounding (which doesn't exist because Congress spends every last penny of OASDI payroll taxes the minute they come in the door and not just on Social Secuirty), so STFU about "I PAYD IN2 DIS SISTIM SO I SHLD GIT ALL TEH MUNNEEZ ACUZ I PAYDED FER IT!!one!!1! ITS NOT TEH WELFAIR STOOPID PYOOTER!1!!!"
But 'Puter digresses. Again. "Stay on target!"
Back to Mr. Robinson's cruddy column. 'Puter doesn't want people to has a sad, least of all the behbehz and teh old peepulz. 'Puter wants all Americans to be happy. 'Puter just doesn't want to pay for other people's happiness, at least no more than is necessary. 'Puter just doesn't think ObamaCare is going to make Americans happy, whether they're on the receiving end or the paying end of the imminent fustercluck.
Here are a bunch of reasons on 'Puter's "Why ObamaCare Sucks Herpetic Monkey Wang" list that have nothing to do with Mr. Robinson's claim that 'Puter and his ilk just don't want Americans to be happy. As an added bonus, each one of 'Puter's reasons makes a Hell of a lot more sense than Mr. Robinson's implied crap-tastic shit-stravaganza of a basis for ObamaCare: happiness:
'Puter's got tons more reasons on his list of "Why ObamaCare Sucks Herpetic Monkey Wang." Despite Mr. Robinson's cheap straw man argument, none of 'Puter's reasons include "it might work."
Most of 'Puter's issues with ObamaCare boil down to this simple fact. Liberals sold America on legislation promising free stuff for everyone at no personal cost to anyone, which is an impossibility. Liberals purposely hid the known cost to Americans, both financial and freedom.
In twenty years, America will look back on ObamaCare as a misguided idea that stole from our children to enrich the most selfish generation of all, the Baby Boomers.
Liberals lied, people died. That's ObamaCare's lasting legacy.