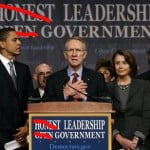 GorT has little patience for people complaining about the current fight over the federal debt ceiling, the defunding of the Affordable Care Act, and the impending "shutdown" of the federal government. If the Congress, and specifically the Senate would do the CONSTITUTIONALLY MANDATED JOB we would have a federal budget that would address the funding (if any) of the ACA, the debt ceiling, etc.
Let's be fair here – technically, there has not be a true federal budget passed since 1997. But wait, you say, we've heard that they passed one in 2009. Not true. In 2009, Congress passed an omnibus spending appropriations bill. That is not a budget. This means that since Newt Gingrinch was the speaker of the House in 1997, both Republican and Democrat led Senates have failed to do their job as outlined in the Constitution. Personally, I believe that if a federal employee consciously makes a decision to not do their job they shouldn't get paid. Period. Senate fails to do their job – BAM, no salary until they do. The House doesn't pick up the federal budget and do the same – BAM, no salary until they do. The President fails to follow it – BAM, no salary until he or she does.
Defunding ACA isn't the answer, it is a political maneuver. We need to put a federal budget together that clearly delineates spending. The stronger position is pointing out how the government is not ready to implement large portions of the bill. Several key components have been delayed/postponed because they aren't ready. Consider for a moment, that if the government isn't ready to implement portions there are federal employees working (and getting paid) to work towards implementing them and it's taking longer than planned. That means the real cost of ACA is already higher than projected.
Repealing the bill is the only real solution. Passing a federal budget is the real solution to addressing the debt ceiling and the operation of the federal government.
Because we're always looking for someone to blame, let's start with the President for failing to put forward a reasonable budget on time. However, once his budget hit Congress, it received ZERO support. However, the Senate stopped there. Specifically, Sen Reid has failed to lead the Senate to putting forward a budget resolution for Congress to work towards passing.