'Puter's Travelogue: America's Great Lakes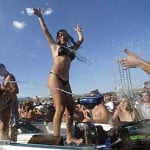 'Puter and Czar attended Lake Suuperior's Walleye
Festival last February. The young woman pictures
was the deckhand assigned to our boat. Czar insists
he has never seen a woman more at ease handling
24″ of aquatic fury impaled at the sharp end
of a six foot gaff.
As followers of our Twitter feed know, 'Puter has traveled extensively throughout the Great Lakes Region. By "traveled extensively," 'Puter means he has stumbled from the Castle's portcullis to the Leaping Peacock's adamantine-topped bar and back countless times. Since many of you will never have the opportunity to visit the Great Lakes Region, 'Puter has decided to share his vast storehouse of knowledge with you, the unworthy reader.
For those of you not up to date on your geography, which judging by his Twitter feed, 'Puter assumes is most of America, there are these bodies of water that are really, really big and full of fish and stuff. The Great Lakes are bordered on the North by Tuktuyaaqtuuq (literally, "it looks like a caribou"), Inuvit Region, Northwest Territories, Canada and on the South by Perth, Western Australia, Australia. The Great Lakes Region's eastern border lies near Ouagadougou, Burkina Faso, while its western border cuts directly through Greenwich, England. Ignorant people refer to this western border as the "Prime Meridian," but those in the know call it by its Great Lakes sobriquet "Brenda."
Before traveling to the Great Lakes , the savvy traveler learns the names, locations and some pertinent facts about each of the Great Lakes, so as to avoid offending the natives, or worse, embarrassing one's self. Here's a primer for the first-time visitor to the Great Lakes region.
There are about six Great Lakes, give or take: Gitche Gummee; America's Aquatic Wang (not to be confused with Florida, America's Terrestrial Wang); Two or Three Lakes Named After Indian Tribes GM Didn't Name Cars After; Emerson, Lake (and Palmer); Baikal; and Ricki.

The results of Czar's ill-advised kayaking
expedition on Gitche Gummee
Here's China's aquatic Wang, who,
judging by the looks of the festering
sores on her back, was recently
swimming in America's Aquatic Wang
Pictured: Lakes Huron, Erie and Ontario,
the soulless and quasi-evil members of
the Great Lakes Family
Sometime, late at night, if the wind is
just right, you can almost make out the
sounds of a stoner jamming on a Moog
synthesizer rising from the depths of
Emerson, Lake (and Palmer).
Vladimir Putin swims in a most manly
fashion in Lake Baikal, a Great Lake
solely because of Mr. Putin's unquestioned
williningness to slaughter innocent lakes
to get his way.
Ricki Lake's expanding and contracting
shoreline has been the butt of cruel jokes.
Thankfully, the Army Corps of Engineers
has put an end to our long national nightmare

When you're planning your summer vacation, don't overlook America's Great Lakes region. Our Great Lakes have something to offer everyone, even Chicagoans and Baltimoreans, so book your jitney and make flophouse reservations today!

*'Puter's Gitche Gummee Fun Fact: "Duluth" means "Godforsaken Frozen Walleye Asshole" in Chippewa.

**'Puter's AAW Fun Fact #1: These cabbage-eating, sloped-foreheaded Neanderthals settled in Chicago, primarily because "Chicago" sounds like "tshchkagus" in their native tongue, meaning "free kielbasa for all."

***'Puter's AAW Fun Fact #2: Impress a Chicagoan with your knowledge of their bloody and crap-covered history! Nonchalantly drop into conversation at a Blackhawks game that the Blackhawks are named after a late 1880s Chicago slang term for giant, pierogie filled turds covering the Chicago River like a stinky logjam. When the drunken Slavs run at you, mow them down with your Capone era Thompson submachine gun. Thanks to Chicago's ineffective gun ban, the wilding Slav Blackhawk fans (but then 'Puter repeats himself) will most likely be unarmed.

****'Puter's TTLNAITGMDNCA Fun Fact: Most denizens of this region are pasty skinned, short-tempered and bitter, as lake effect snow and clouds cause the region to receive approximately -4,782.63% of possible sunlight. When exposed to direct sunlight, many go blind, spontaneously combust or both. These are the cave fish of humanity.

*****'Puter's ELP Fun Fact: ELP's hydrology is composed entirely of recycled bong water.

******'Puter's Lake Baikal Fun Fact: Lake Baikal is home to the endangered Baikal sturgeon. Czar insists these sturgeons make the most delightful red vapor when used as skeet on his dacha's trap course.

*******'Puter's Ricki Lake FunFact: Baltimorons use "vacationing" as a synonym for "chronically unemployed and/or receiving welfare checks." If confronted by an aggressive "vacationing" Baltimoron, offer him a job. Jobs are kryptonite to Baltimorons. Just look at Nancy Pelosi, a native Baltimoron who's done nothing useful for years, sponging off the public's largesse.