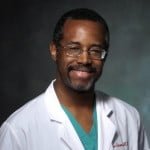 One of the above is an exceptional American, the other is an exceptional loser
Generally when liberals hear something that sounds conservative and reasonable and comes from someone who they would typically classify as being from a demographic that they champion, they panic. A quick survey of Facebook and Twitter shows that the only thing interesting or of note at the prayer breakfast was Dr. Carson's speech (as described
here
,
here
and
here
). President Obama's own speech was hardly retweeted or facebooked. Many noted that the mainstream news outlets such as ABC, CBS, New York Times, and the Washington Post didn't even really cover it until it started snowballing.
Now, GorT likes watching "The Five" on Fox News. The show is entertaining and informative and usually has a good balance of discussion between the co-hosts without too much of the typical shouting and speaking over one another. Bob Beckel is one of the regular liberals on the panel and he came out and ripped Dr. Carson. He started with a fair critique of the speech: the national prayer breakfast is usually non-partisan. But he continues on with some serious, borderlne-nutcase accusations. For a better detailing of the situation,
I give you Jonah Goldberg
.
Beckel (and others like him) will continue to launch distracting attacks (i.e. he's only trying to get his 15 minutes of fame) and ignore speeches like this to try to hide and sweep it under the rug. Dr. Carson is a prime example of American exceptionalism. He rose from poverty through education and a driven mother to reach the top of a very rigorous profession with minimal reliance on government assistance programs.