Friend of the Gormos: JVL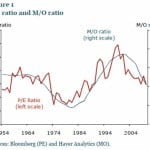 GorT is a big believer in correlated data and there are certain demographic trends that aren't looking promising for the United States. The one I usually cite is the population numbers by age versus investment behavior by age. I believe that there is a strong possibility that a contributing factor to the slow recovery from this recession (aside from the terrible policies and lack of leadership of the Obama Administration) is the large number of boomers who are starting retirement and shifting their investment behaviors into a more conservative stance. There is data that supports this such as the correlation between P/E (price to earnings) and the ratio of 40-49 year olds to 60-69 year olds:
To read more on this click here.
The other trend is the national birth rates. Friend of the Gormogons, Jonathan V. Last was on CBS This Morning to promote his new book, What to Expect When No One Is Expecting. He handles the questions expertly. Even with what some may think are a few digs against his position by one of the female co-hosts (over population hurting the environment and women more empowered by having fewer children), he quickly points out the issues and reasoning behind the birth rate decline concern with regards to her points. It's worth a watch and the book is worth a purchase. Click right here. Really. Do it.