A Practicing Papist's Post On Practical Popery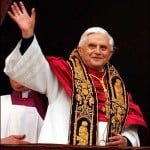 "If I had it to do over again, I'd have
excommunicate Maureen Dowd and
E.J. Dionne this many times for falsely
portraying Church doctrine and bringing
scandal upon Christ's Bride."
'Puter was as shocked as anyone to hear that the leader of the Roman Catholic Church, Pope Benedict XVI, announced his retirement this morning. 'Puter was even more shocked to learn that the crew at Morning Joe holds Mika Brzezinski out as a practicing Roman Catholic, capable of offering insightful commentary on papal conclaves, Roman Catholic theology and the Magisterium. Leaving snark aside, 'Puter has the following initial thoughts.
1. Popes can resign? Who knew? 'Puter always thought being Pope was like joining the Irish Republican Army: once in, never out. Only death qualifies as a valid resignation. As GorT ably discusses below, the last Pope to resign only did so to reunify the Roman Catholic Church, and that scheme failed miserably.
2. If Pope Benedict XVI expects the laity to accept his resignation, he owes us an explanation. "I'm tired and old" just isn't going to cut it, especially since your predecessor John Paul II struggled for years with Parkinson's disease, eventually dying from the malady.
3. Let's cut Pope Benedict XVI some slack here, despite our initial skepticism. Perhaps like John Paul II, Benedict XVI is trying to teach us as he deals with his end of life issues. Both men were (obviously) well versed in Scripture, and excellent theologians. Before we judge, we should step back and consider whether we are missing something.
John Paul II's famous mantra was "be not afraid." The Gospels are replete with Jesus advising his disciples that no one with faith in God need fear for his life, as God provides eternal life. Even the Old Testament advises followers to not fear. John Paul II used his very visible, disabling and eventually deadly disease to teach the world by example. John Paul II trusted in God's promised reward and approached death with faith and dignity. 'Puter would like to believe that John Paul II showed the world the fundamental importance to Roman Catholics of a consistent ethic of life, from conception to natural death. John Paul II could not retire, as he believed God called him to live out his illness as an example to us.
Perhaps Benedict XVI is focusing on a different end of life aspect, that of duty to others. Jesus during His Agony in the Garden said "O my Father, if it be possible, let this cup pass from me: nevertheless not as I will, but as you will." Matthew 26:39. We should consider whether Benedict XVI is showing us we have a duty to act for the greater good, in this case for the good of the Church, even when so doing causes us personal pain, such as the loss of the papacy's temporal power.
So that's where 'Puter is right now. He's baffled by an unexpected and unexplained papal resignation, but convinced there is a lesson for us to learn.
'Puter's also profoundly thankful that the last two leaders of the Roman Catholic Church have presented the world two such divergent examples of faith in action. John Paul II's charismatic evangelism bookended by Benedict XVI's quiet legalism. Both men have served the Church well, and 'Puter thanks God for their service.
May God guide the College of Cardinals as these men prepare to meet in conclave to elect 'Puter's next pope.
May God bless Pope Benedict XVI as he moves forward, trusting that God will guide, keep and deliver him to eternal life with Him in Heaven.
Habemus papam!