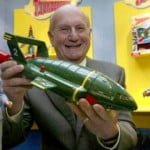 Some of you may be saying, "Gerry Anderson? Who is that?"
Gerry Anderson was a staple in GorT's youth as the Saturday night lineup was the Muppet Show followed by Space: 1999. Mr. Anderson died at the age of 83. In addition to Space: 1999, Anderson is known for a number of marionette shows (before people jump on me, it is referred to as "supermarionation") such as UFO, Captain Scarlett and the Mysterons and the Thunderbirds.
If you've never watched either, it is an interesting look back into the 1960s and 1970s and how a child's imagination could be inspired by what we would cast aside as cheesy or cheaply done these days. GorT has watched episodes from all of the mentioned shows and is unfamiliar with Supercar (Volgi, I know there's no such thing of supercar), Firebird XL5 and a few other works.
I recommend following this link to a view of Gerry Anderson in images by the BBC and maybe look at Netflix, Redbox or Amazon's Instant Video to see if you can catch some of his work.
FAB.