In Which New Traditions Replace Old…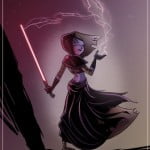 Are you ordering take out for me, Master Jedi?
Dr. J. who is half-Italian on Mama J.'s side was raised to enjoy the Feast of the Seven Fishes on Christmas Eve. The tradition is that seven dishes made with varying seafood are served the night before Christmas. This was one of Dr. J.'s favorite traditions. When he was up in Philly, Mama J. or his Great Aunt would host the meal. Various dishes were served, clams and spaghetti, fried shrimp, flounder, smelts, crab cakes or a delicious crab casserole (imagine one giant crab cake), anchovy bread (pizza, hold the cheese and add anchovies) and bacala salad. One year, when Mama J. was feeling particularly lazy, she she made boulabase which covered about 5 of the fish, along with two other staples. Moving to New Atlantis, Dr. and Mrs. Dr. J. went home the first two years, then in year 3 and 4 attempted to cook the Feast but it is an expensive and wasteful proposition so it got cut to 3 fishes. Then the Lil Resident had no interest in fish, and Christmas Eve is always hectic, so we started getting take out from Maggiano's. Dr. J. would get fried calamari and a second seafood dish, just to get his fix, but Lil Resident and Medstudent would get what they like (Rigatoni Alfredo with a side of meatballs).
Now that the Lil Resident and Lil Medstudent are a little older, Mrs. Dr. J. floated the idea of making a few seafood dishes at home. Tears welled up in the Lil Resident's yellow-red eyes, force lightning crackled in her hand and she said, "…b-b-but mom, Maggiano's is our Christmas Eve TRADITION!" Mrs. Dr. J. looked to Dr. J. for his thoughts…he said, "Well, I am working on Christmas Eve, and also some traditions change, and has become our tradition, so be it. Maggiano's it is."