Helping the Media With Their Obsessions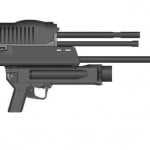 Okay, the Czar is willing to compromise on an assault weapons ban. He recommends Congress quickly pass the following restrictions through:
The following weapons ("assault weapons") shall be banned from sale effective the date of passage:
Weapons with a detachable box magazine consisting of 40 or more bullets (excluding drums)
Rifles or other long guns with permanently affixed bayonets
All weapons, regardless of size, that feature continuous fire upon a single pull of the trigger to the point that the magazine is completely expended even if the trigger is released.
Any weapon featuring only iron sights that can accurately fire into a target one mile away in high wind.
Weapons exceeding .59-inches in caliber.
Recoilless rifles.
Semi-automatic bolt action rifles with multiple barrels.
That seems reasonable, and will certainly seem like a great idea to the media.