The Hostess with the Mostest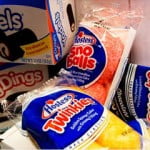 Hostess announced plans to shut down this week. They are facing a workers strike which their CEO has determined they can't weather over a prolonged period. The plans include laying off most of their 18,500 strong workforce after a Thursday return-to-work deadline was missed. According to a Fox News report, many workers started crossing the picket lines even with the threat of union fines but it wasn't sufficient for the company. One of the major issues facing the company, which had already filed Chapter 11 in January, is the fiscal burden of their pension and medical coverage. The shutdown could begin as soon as Tuesday.
This surely won't help the employment picture and liberals who even remotely think that this is being done out of spite for the election results need to take a long hard look at themselves and then go figure out how the economy and the private sector really works.
It will be sad to see WonderBread, Ding Dongs and Ho Hos go (I will not miss SnoBalls) – albeit much of the food is not on the healthy side of the nutritional charts. I wonder what other American business institution will be next?