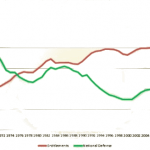 I was finishing up lunch with some former co-workers today and as I walked out I found myself behind a group of young professionals who were likely in the late 20s or early 30s. The snippets of their discussion were about sequestration and how "it might be a good thing if we lop off a bunch of money from the Defense budget."
Let's consider that for a minute. The AEI published a chart that I think is very telling with regards to sequestration. It's one thing to measure budget increases (or cuts) in relationship to previous years' budgets – even as an inflation-adjusted amount. But if one looks at this graph which compares defense spending and entitlement program spending as a percentage of GDP, it does provide a different perspective:
The red line is the entitlement spending and the green is defense. Starting around 1975, entitlement spending passed defense spending as a percentage of the GDP. Now, many will say that measuring this spending as a percentage of GDP is just a gimmick or defense spending shouldn't track with GDP anyway. To those I would ask, then why should entitlement spending track as it does? In fact, I would argue that there are evident issues with the defense spending not tracking. The defense of our infrastructure, particularly in a "cyber" sense, has lagged behind and I would attribute some of the blame to this spending picture.
Truthfully, there is likely some waste and duplication within the defense budget that could be trimmed. But a broad-brush cut like sequestration is not the means to achieve this. Furthermore, we continue to just kick the can down the road regarding entitlement spending. One of those lines above tracks up as our deficits and national debt has. Stop blaming the other one.