You Don't Tug On Superman's Cape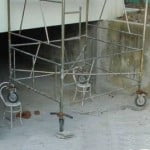 Guess what the Czar was just complaining about at lunch? Why, BG writes in with exactly that:
I got an email from the city of Alexandria, Virginia, that says, in part, "If a power outage occurs, do not use candles under any circumstances because they are a fire hazard."

Safety.

They neglected to tell me that when the power comes back on, I shouldn't use the electricity because I might shock myself to death.

I probably shouldn't use the toilet, either, because I might fall in and drown.

Just before our cable died, I emailed them back; "Sweet baby Jesus, if I needed a nanny, I'd go back to live with my mother." Strangely, no reply yet. They're probably trying to figure out who this "baby Jesus" person is so they can route my email to him/her for a reply.
The Czar himself was stunned to see Mayor Bloomberg warning New Yorkers not to drink the sea water, and to keep candles away from the curtains.
Because, you see, you are all freaking morons and it takes someone of Michael Bloomberg's vast intellect to guide you away from sticking your tongues into garbage disposals or rubbing jellyfish on your privates. But then—most of you apparently elected effete trash like this as your superiors, so cry not a drop to the Czar.
In BG's case, he almost certainly did not elect the non-elected administrator person who sent out the mind-blowing safety email. No, that's a home-grown sort of goofiness. By the way, BG, do not drink the toilet water, and keep your electricity away from the curtains. You can never be too safe. Or evidently, they think, too stupid.