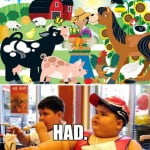 You know, it isn't just 'Puter who can post tasteless crap like this.
This is severely unfunny. Not a redeeming thing about this at all. Total immaturity, and exploiting the last socially tolerated form of gross prejudice: making fun of fat kids. If you thought this was in any way funny, you should feel very guilty. Just like we did.
Hat tip to The Feral Irishman.