Another take on Schrodinger's Tax…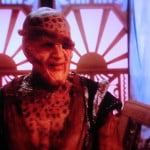 Like Odin, G'Kar lost an eye and gained wisdom…
By way of a post script, Jamie Jeffords, over at The Eye of Polyphemus, a law school grad takes a stab at it.
The cynic in me thinks the Supreme Court skirted over the issue of the Anti-Injunction Act in order to make a ruling now rather than delay one until 2014. I have, however, seen flimsier arguments than a penalty is not a tax, but is still Constitutional under congress' powers of taxation before. Lawyers can do some mental and verbal gymnastics worthy of Cirque du Soleil. That is why they get paid the big bucks.
Now Dr. J. is of the opinion that Chief Justice Roberts opinion is a reasonable and logical one. He did prefer the dissent, and for reasons of policy was hoping that Obamacare would have been struck down. But, again, Dr. J. feels that if Obamacare was upheld, which it was, that Chief Justice Roberts write the opinion he did, rather than leave it to Justice Ginsburg, because then we would have a whole bunch of scarier decisis to stare at than we currently do.
At least Roberts's opinion gives America, and the Republicans the rope with which to pull down Obamacare, or hang ourselves. It's up to us.