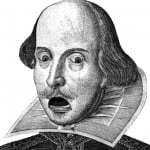 And when today is dubbed by Mayor Rahm
A Day to Speak Like William Shakespeare thus,
So all Chicago musters its aplomb
To group its iambs into fives or plus.
Perhaps a cabbie growls about the Bears,
Or wonders if the Cubs will ever win.
He might soliloquy to all his fares
A sonnet on the toddlin' town he's in.
But heark, what twist of fate is this,
What madness is this motion of King Rahm's?
How dare he snake out more than just a hiss
When half of what he speaks are pure F-bombs?
Perhaps some good will come when day is done;
Old Daley spoke like hell as did his son!