Chicago: The City That Worsk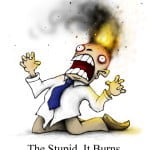 Want more stupid?
Chicago alderman George Cardenas, who by rights should be looking for a real job after the next election, has introduces a resolution to the City of Chicago to impose a fifteen-to-thirty-cents-per-ounce tax on soft drinks and energy drinks. Buy a 12-ounce can of soda, and you could pay an extra $3.60 as a tax. Seven other aldermen have signed on.
This is moronic horseshit.
Of course it isn't, he insists. Obesity is a real problem in this country, particularly among children! This tax could help curb this growing problem.
What a liberal progressive. Here are your clues you are dealing with one:
The assumption maligns fat people as unwanted entities.
By penalizing sodas and sport beverages, the government can "cure" them of their affliction.
People who are obese did not gain wait solely from drinking sodas and sport drinks.
And obese people are either already getting treament for their condition, or they are not. There is no program in place that will compel obese people to seek treatment if they need it through this resolution.
If the intent is to encourage people to not drink sodas and sport drinks, what becomes of the money collected? There are no provisions for this money, and it might just as well wind up in aldermanic wallets.
This bill penalizes everyone who drinks sodas and sport drinks, such as the Czar—who is decidedly not obese.
There are no provisions for addressing refills at restaurants, or determining how much actual soda is purchased if from a fountain, in which a good proportion of the contents is only ice.
If sugar content is the issue, why are diet drinks and zero calorie beverages taxed?
These are valid but ultimately rhetorical questions. The resolution is inane, developed by someone who has no concept of what he is doing, and whose own ward will be economically penalized by his stupidity. He should just come out and admit that he wants to pocket the money, and screw you people. The Czar would have more respect for his honesty.
The Czar proposes a resolution for the City of Chicago in which people who read liberal websites pay a 30-cent-per-minute tax to help curb progressive incompetence. Bet the Czar can get more votes than Alderman Cardenas. And raise a crapload of money.