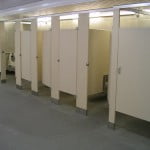 Ben McWhirter, 73, who usually hangs out by the hundred combo flavor Pepsi machine, is in his fourth hour of Occupy Stall 3 of the Men's Room Inside the Lansing, Michigan, Culvers on Saginaw Highway.
Asked what his demands are, he said he didn't really need anything but to be left the hell alone. The heat was on, and he can easily nap four or more hours in there before they ask him to leave.
Asked if he was a 99 percenter, he repeated his request to be left the hell alone.