Multicultralism Gets The Boot…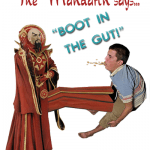 With Halloween just seventeen days away, what could me more frightening than the images of ghosts, ghouls, and goblins? Well your Mandarin suspects that the latest winner of the "Bootie" award is scarier than any imaginary monster.
And the Boot in the Gut award goes to Kennedy School Principal Anne Foley in Somerville, MA. Principal Foley has come out against the celebrations of Halloween, Columbus Day, and Thanksgiving.
Your Mandarin encourages you to read the entire article to see how this individual who is responsible for the education of your children has been infected with the disease of multiculturalism.
Multiculturalism is an insidious disease that presents the following symptoms in those infected by it:
• An inability to understand that not all cultures are equal, nor could they ever be.
• An inability to accept the fact that not all cultural practices should be practiced in a civilized society.
• An immense sense of self-loathing due to being of European ancestry.
• A softening of the brain which makes the victim susceptible to Progressive, leftist, and other lunar ideas.
• A sense of self righteousness and purpose to purge all traces of Western civilization from this country.
• General laziness in the form of not working to help current immigrants assimilate into the cultural and societal norms that the United States was founded upon.
Your Mandarin is saddened that there are numerous other individuals that share Principal Foley's in positions to influence our children. But it is stories like this one that shine a light on the problem, and hopefully serve to rally those that still take pride in this country and its traditions, and demonstrate a willingness to stand up for the cultural norms that made this country that shining city on the hill.