Ron Paul Is Bat-Shit Crazy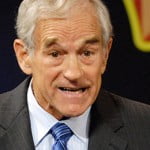 'Puter knows he's going to get pilloried, but he's going to say it again. Ron Paul is bat-shit crazy. One cannot hold the positions Ron Paul does and be seriously considered to lead our country.
'Puter freely admits that he completely agrees with some of Ron Paul's ideas. 'Puter likes some of Rep. Paul's notions on the economy, which you can find here on his campaign's official website. rep. Paul is for balanced budgets, offshore drilling and ending unfunded mandates.
But from there, his platform goes off the tracks. Rep. Paul supports "[l]egalizing sound money, so the government is forced to get serious about the dollar's value." Great. Let's undo the foundation of our economic system during a horrible recession so Ron Paul and his merry band of deranged libertarians can get their goldbug jones on. This is a singularly horrible idea.
Rep. Paul is also for "[e]liminating the income, capital gains, and death taxes." So we'll just fund ourselves through tariffs, excise taxes, sales taxes and a VAT? Government should be as limited as is feasible, and commensurate with maximizing personal freedom. Destroying government through cutting off all funding isn't libertarian, its anarchist.
'Puter's leaving aside for now Rep. Paul's dangerous notions on eliminating the Federal Reserve, adopting an isolationist foreign policy and ending both birthright citizenship and the welfare state. Each of these areas is in sore need of reform, but to call for outright abolishment is to marginalize one's self and one's followers.
'Puter's certain he will get reams of email explaining in minute detail on how many levels he is wrong about Ron Paul. 'Puter's even hoping to receive some deranged email in ALL CAPS exclaiming that RONPAULISTHEBESTESTCANDIDATEEVERAND'PUTERISASTOOPID POOPYHEADWHOKNOWS NOTHINGABOUTTHEREALWORLD.PAULISSO MISUNDERSTOOD!! YOUMUSTRECOGNIZEHISBRILLIANCE!!1!eleventy!!
None of this trenchant criticism will change 'Puter's mind.
Ron Paul is irresponsible and fundamentally unserious about the problems facing the world today. Running off to your bedroom and plotting about how things would be different if only the jocks understood your brilliance is not a winning formula.
Ron Paul is the Right's equivalent of a college professor. Both live in the world of ideas. Both are politically marginalized, so their grandest plans have no chance of coming to fruition. As such, they are insulated from the consequences of their disastrous ideas and free to continue to spout dangerous nonsense.
This is why 'Puter refuses to take Ron Paul or his most militant followers seriously.