'Puter Sure Hopes This Steaming Pile Didn't Come Out Of Elizabeth Warren's Mouth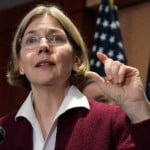 This steaming pile of horseshit quote from Elizabeth Warren has been making the rounds among 'Puter's liberal friends. The crappy link to MoveOn won't allow a cut and paste, so 'Puter will type it for you here:
There is nobody in this country who got rich on his own. Nobody. You built a factory out there — good for you.

But I want to be clear. You moved your goods to market on the roads the rest of us paid for. You hired workers the rest of us paid to educate. You were safe in your factory because of police forces and fire forces that the rest of us paid for. You didn't have to worry that marauding bands would come and seize everything at your factory.

Now look. You built a factory and it turned into something terrific or a great idea — God bless! Keep a big hunk of it. But part of the underlying social contract is you take a hunk of that and pay forward for the next kid who comes along.

First, 'Puter's betting this quote is apocryphal. MoveOn sources to some guy's Facebook page. Seriously.

Second, the entire quote is a hot mess of horrible liberal tropes and fundamental misunderstanding. Very comforting coming from a Harvard professor and United States Senate candidate.
1. Um, yes, Professor Warren. People get rich on their own all the time. They come up with an idea. They borrow money against their house, or better, spend money they have saved. They invest their lives in making that idea a success. Sure, other people help. Some may write code. Others may manufacture hardware. But these folks are compensated for their work. The guy with the idea keeps the idea and makes the millions. Make no mistake, Steve Jobs is rich because of Steve Jobs.
2. Oh. People using commonly paid for goods, services and infrastructure for the common good. Why, that's unheard of. Now 'Puter "wants to be clear." The reason we all chip in for these common goods is because, well, they're common goods. The existence of these goods is beneficial for all in society. If we did not pay for these common goods, and China did, Steve Jobs would be in China so fast it would make your head swim. Look, Professor. Steve Jobs and his little company throw off thousands and thousands of jobs in this country and around the world. Further, Steve Jobs and his company pay a metric buttload in taxes, taxes that support the very infrastructure you resent him using. Steve Jobs using "our" roads and "our" educated citizens is a small price to pay that doesn't come close to equalling what he has returned. That one company (Apple, for the cognitively impaired) has alone increased every American's standard of living radically, cheapening electronics and making information widely available. Your notion that somehow you have a claim on Steve Jobs and his company simply by virtue of the fact that "WE ALZ PAYD FER YER INFROSTRUKCHER!!1!el!!even!1!ty!!" is a thinly veiled appeal to mob rule. We paid for stuff you used, therefore we have a claim of right to everything you've created. Awesome advice, Professor. Let business think that you're going to grab even more of what they've created. That's sure to help our recession.
3. 'Puter doesn't even know where to start on the final paragraph of this abortion. "Keep a big hunk of it." Gee, thanks. That's big of you, seeing as you don't own any part of it. And here's where 'Puter may actually lose it.
Liberals understand the social contract as a one-way street. You owe me a duty/living/ house/iPhone/hooker/blow/1971 Dodge Swinger. Every danged time a hippie liberal opens his mouth, all I hear is about how he's a victim, and how I owe him something. It's never about how he owes us something. Like taking a shower periodically, for starters. This is why liberals don't get the military, and why the military hates them. Liberals have no sense of duty, except to themselves and their fellow travelers. The rest of us exists as cheap labor and capital to run their giant Gubbamintapalooza Victim Compensation, Patriarchy Punishing, Wealth Redistribution Machine. Again, horseshit.
The social contract says 'Puter gives up a portion of his freedom and wealth in order to create a mutually livable society. See, Messrs. Hobbes, Locke and Rousseau. So far, this squares with Ms. Warren. However, there is a corresponding obligation of the sovereign not to unjustifiably mess with 'Puter or single him out for special treatment. For lack of a better phrase, the sovereign must deliver on his promises and cannot act arbitrarily in contravention of 'Puter's freedom. And that's where Ms. Warren goes horribly wrong.
Nothing says that I owe an obligation to take a hunk of what I created and pay it forward for the next kid who comes along. Nothing. The government can tax me on terms equivalent to those similarly situated. It cannot appropriate my property (without just compensation) just because some future kid (which, by the way, liberals are singularly bad at producing) may have a claim on it. This is a weak-assed variant of "ITZ FER DA CHILLUNZ!!1!" argument.
If this is what Massachusetts and Harvard is producing today, then 'Puter wants no part of it.