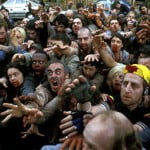 Mayor Michael Bloomberg of New York predicts riots in the streets if the economy doesn't create more jobs. Oh nos 111!!!!!!eleventy!!!!!11@!!!!
Mayor Bloomberg is warning all who will listen that these riots are in our future unless Washington gets serious about generating jobs. To quote the Mayor:
"We have a lot of kids graduating college, can't find jobs. That's what happened in Cairo. That's what happened in Madrid. You don't want those kinds of riots here."
Your Mandarin suspects that the jobs situation for these recent college graduates would be better if they majored in mathematics, the physical sciences, or engineering instead of fill-in-the-blank studies.
The riots in Madrid and Cairo were not the result of a couple of college graduates that couldn't find a job. The riots were instigated by leftist and anarchist groups (Madrid) and Islamic groups such as the Muslim Brotherhood (Cairo) with an agenda to overthrow their current governments.
The ultimate goal of these groups in Madrid was not to create jobs or improve the economies of their respective countries but to socialize the economy and bring it under more stringent government control. Which by the way is like trying to put out a fire by pouring gasoline on it. And the motive of the Muslim Brotherhood in Egypt is the formation of an Islamic state governed by Sharia law and the ultimate goal of the annihilation of Israel.
Regarding the job situation here in the United States, maybe Mayor Bloomberg should focus his attention on the root cause – the intrusion of government into the private sector. Governments on the federal, state, and local levels have continued to create conditions through taxation and regulation that have stymied the creation of new jobs and are causing the erosion of what jobs and industries are left.
Many of the regulations that have been implemented or are being proposed are either based on science that is either faulty or based on data that has been manipulated to achieve the desired outcome – can anyone say climate change – or based on "social justice" beliefs to ensure equal outcomes for all.
Your Mandarin would like to inform the Mayor and all politicians for that matter that the government does not create jobs. Yes they may employ a great number of people, but this employment only consumes revenue and resources from private business that actually create things that people need or simply want. The Mayor like most progressives tends to confuse motion with action.