It Was All Going So Well For The NYT's Editors …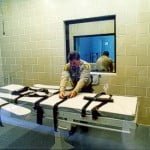 And then the editors go and muck up a decent argument with a fundamental misunderstanding of separation of powers, fueled by a mistaken and discredited liberal world view.
The New York Times' editors make a perfectly valid argument that application of the death penalty is unjust and immoral. The editors then claim that the remedy is to have an unnamed court (likely the United States Supreme Court) declare the death penalty unconstitutional.
As the editorial glosses over, the Supreme Court has held that the death penalty does not violate the Constitution. Yet the NYT's editors would have the current SCOTUS members blithely ignore settled precedent. 'Puter wonders to himself whether the editors would be so glib if the conservative majority determined to ignore stare decisis in order declare abortion unconstitutional, which a significant number of Americans likewise find unjust and immoral.
The correct remedy is for the NYT's editors to convince state legislators, or even Congress (that pesky Commerce Clause rears its ugly head again), to simply outlaw the death penalty. The Supreme Court has only held that states' use of the death penalty is constitutionally permissible. It has not held that all states must enact a death penalty provision.
Rather than utilizing the simple solution available (elected representatives reflecting the will of the people), the NYT like the good liberal house organ it is decided to go for the over reach (unelected jurists imposing their will on the country). 'Puter suspects this is a recognition by the editors of the unpopularity of their opinions outside the smug confines of their urban(e) bastions.
This is among the many reasons 'Puter has so little respect for the NYT.