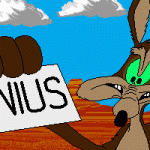 These guys are about as good as Wile E. Coyote catching the Road Runner: utter failure while believing the whole time that they are super-geniuses. The early word from the People's Republic of California is that the so-called "Amazon tax" (forcing on out-of-state online retailers such as Overstock.com, Amazon.com, etc. to collect state sales tax for California) is starting to have a devastating effect. Your Gormogons have said it before: when politicians put in anti-growth, anti-wealth creation measures (think: online state sales tax or the "millionaires tax" that some states have), they will begin to undermine the very thing they're trying to grow. These supergeniuses just don't understand economics and social impacts.
Those large retailers threatened to sever ties with partners in California, if the law passed. It did and they are. Over at Big Government, they had this to say in summary of what has happened:
Last month, news broke of one California-based online entrepreneur who had decided to ditch California and move to Nevada in the aftermath of Gov. Jerry Brown signing the law. "I always figured that in California, home to Silicon Valley and a million tech startups, they'd never pass a law like this," said Nick Loper, who formerly operated ShoesRUs and has now opened a new venture, ShoeSniper.
Per the piece in which Loper is quoted, more than 70 affiliates had at that stage already left California, according to online businesses.
Then, last Thursday, another online entrepreneur, Erica Douglass, posted a mock "It's Over" letter to California on her blog. Douglass, who sold an internet company she had built for $1.1 million in 2007 when she was just 26, cited multiple reasons for moving to Austin. Among them were unnecessary paperwork requirements mandated by the state, and high taxes as well as business fees. However, the straw that broke the camel's back, was according to Portfolio, Brown signing the Amazon Tax into law.

Backers of the legislation seemed to believe that affiliates would be happy to work with other retailers who also operate affiliate programs, or that online retailers targeted by the law would not end affiliate relationships and the threat was idle.
In neither case do those assumptions now seem correct
Awesome. I'm sure they have a plan for fixing the nation's economy. Oh wait, they do: tax increasesrevenue enhancement. Uh huh. Good plan, Wily.